Audacity YQR is aiming to commission 25 new pieces of street art celebrating Regina entrepreneurship by 2025.
Article content
The bold prairie sun was in fine form Thursday, but Moose Jaw artist Carly Jaye Smith was embracing it, adding a new pop of orange to the south wall of Leopold's Tavern.
Article content
Smith's fresh paint is the beginning of a new mural project aiming to spotlight local entrepreneurial spirits, spearheaded by the grassroots Audacity YQR movement.
"They're trying to utilize public spaces to spread this message of encouraging and recognizing entrepreneurs, people who take big bold steps and follow their passions," Smith said.
The mural project is a totally new offshoot from Audacity YQR, which formed under the wing of Economic Development Regina (EDR). The brush strokes beginning Leopold's makeover are some of the first to hit the bricks, kicking off the main phase of the project which is looking to complete 25 new murals and art installations in the city over the next five years.
Each mural will tell a story about the vivacity of changemakers in Regina, said EDR spokesperson Chris Bonk.
"Sometimes those things go unseen or unnoticed, so this is a great opportunity to create something visible that will make people stop and thin, and notice the great things happening in our city," Bonk said.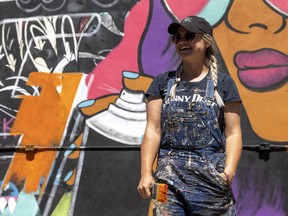 Smith's art graces the first Leopold's to open in Regina on Albert Street near 15th Avenue, which has since expanded to include two more locations. The vision for the mural was "big bold colours and a message of inspiration," something Smith said was exactly up her alley.
"That's basically who I am as an artist, and so it just worked," she said.
Standing in the middle of the parking lot outside the restaurant the eye is immediately drawn to a vibrant flow of purple hair belonging to a woman holding a can of spray paint. While not yet complete, Smith said the other side of the wall will boast stylized lettering that reads "Dream Big."
Article content
"It tells a story of a girl, painting that message, for everyone to hopefully follow suit," Smith said.
Smith was inspired by the Cathedral neighbourhood, of which Leopold's sits just on the eastern edge. She was aiming for a vibe of "fresh and fun," to match the community.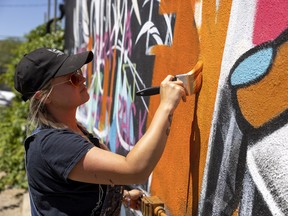 She said it's very cool to be the first step in the movement. As an artist, Smith said the idea of partnering with local creatives to celebrate the beauty of the entrepreneurial spirit is incredibly fitting.
Public artwork is also a huge benefit to a city, as it works double-time to both beautify and inspire communities, she added.
"People can relate to a splash of colour on a wall," Smith said. "A concrete, cinderblock wall does nothing for somebody, but if you can take some colour and a message and inspire them, make them smile as they're driving by, I think you're doing a good thing."
Audacity YQR is still looking for both artists and businesses or property owners interested in partnering to help the project reach its goal.
"We're starting to spread the word about it, and hopefully this is just the starting point," Smith said.
The news seems to be flying at us faster all the time. From COVID-19 updates to politics and crime and everything in between, it can be hard to keep up. With that in mind, the Regina Leader-Post has created an Afternoon Headlines newsletter that can be delivered daily to your inbox to help make sure you are up to date with the most vital news of the day. Click here to subscribe.