Cheyann Crystal Peeteetuce, the second person to be charged with first-degree murder in the Gallagher case, previously caused a crash that killed two teens.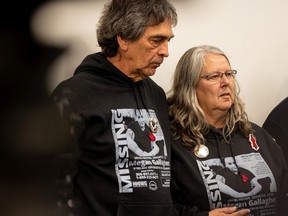 Article content
Years after Cheyann Crystal Peeteetuce was sentenced for causing the death of her son, Marilou Haughey started to shake when she saw her in the prisoner's box again.
Article content
Haughey and her husband Alex were present in Saskatoon provincial court on Tuesday morning as Peeteetuce, 29, made her first appearance on a charge of first-degree murder in connection with the death of Megan Gallagher.
Article content
The day before, they thought they would be there to see Peeteetuce make an appearance on entirely different charges.
In 2015, Peeteetuce was sentenced for causing a 2014 crash that killed James Paul "J.P." Haughey and Sarah Wensley, both 17.
In August, she was charged with driving while disqualified, using a fake driver's licence, breaching three separate release orders and failing to show up twice to testify at a trial. She was arrested on Monday and charged in connection with Gallagher's death.
Article content
Sarah's father Dave and the Haugheys were already heading to court on Tuesday regarding the August charges. Then, they heard about the murder charge.
"How many more lives is she going to take before they finally say enough is enough? No matter what they do, they can't bring back J.P. and Sarah. And Megan," Marilou Haughey said.
Attending court brought back a lot of emotions for the families, who said they weren't surprised to see Peeteetuce back in court. They expressed their frustration over her statutory release — a legally-mandated early release date for most offenders who have served two-thirds of their sentence — in May 2018.
"Now she is being charged … for the murder of Megan Gallagher, five years after she was sentenced to six years for the death of our kids. So just do the math," Wensley said.
Article content
Wensley and the Haugheys said they are supporting the Gallagher family during this difficult time.
Outside court, Megan's father Brian Gallagher told reporters the most important factor of Monday's appearance was seeing Peeteetuce in the courtroom and hearing the charges read aloud.
"The importance of that became evident when (a prosecutor) said the word, that 'You did cause the death of.' To me, personally, that had the biggest meaning so far of anything," he said.
Peeteetuce is the second person to be charged with first-degree murder in Megan's presumed death. Gallagher's family was also in court for an appearance by John Wayne Sanderson, 44, one of four people charged earlier this year with offering an indignity to human remains in connection with Gallagher's disappearance.
Article content
To date, her remains have not been located. With six people now charged and police continuing to ask for information, Brian Gallagher spoke about the importance of breaking the silence.
"Breaking the silence works. The fact that there are so many people charged with this, and as I understand there may be more charges coming, is really starting to blow me away, at the depth of what's happened here," he said.
Peeteetuce's next appearances is scheduled for Oct. 6.
Family of Megan Gallagher attend first court appearance of man charged with murder

Man arrested in B.C., charged with first-degree murder in death of Megan Gallagher
The news seems to be flying at us faster all the time. From COVID-19 updates to politics and crime and everything in between, it can be hard to keep up. With that in mind, the Saskatoon StarPhoenix has created an Afternoon Headlines newsletter that can be delivered daily to your inbox to help make sure you are up to date with the most vital news of the day. Click here to subscribe.