Article content
The Essex Terminal Railway Company will receive $5 million in federal funding to help expand its warehouse capacity in a bid to relieve supply chain issues, officials announced Tuesday. 
Article content
Minister for Transportation Omar Alghabra joined local MP Irek Kusmierczyk (L — Windsor-Tecumseh) at the Port of Windsor to announce the funding through the National Trade Corridors Fund. 
"This announcements we are making today will strengthen the vital trade hub here and strengthen our region's position at the centre of the North American supply chain," Kusmierczyk said.
The money will help Essex Terminal Railway and sister company Morterm Limited construct a new warehouse with the goal of facilitating the movement of goods — specifically steel — through the supply chain. 
"With the help of this funding, we can now increase terminal and warehouse capacity for the storage and material handling of high-quality automotive grade steel," said Morterm president and CEO Tony Di Thomasis.
Article content
"The National Trade Corridors Fund assistance through Transport Canada will ensure that Morterm and the Windsor Port Authority can adapt to the increasing trade volumes and leverage multimodal transportation to move freight in the most efficient and environmentally sustainable manner available," he said.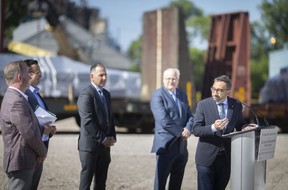 The Essex Terminal Railway Company will also contribute $6.2 million towards the project, officials said.
The project will expand warehouse capacity by 67 per cent and modify another warehouse used to transfer steel between ship and railway, allowing Morterm to expand handling capacity from three to five rail cars per day, Alghabra said. Overall, the money will help increase efficiency and help relieve supply chain congestion at the port.
Article content
"We know that there are so many opportunities for Canadian businesses here in Windsor, and by extension for workers here in Windsor, to create more opportunities and to address more of the challenges that we're facing as a society and an economy," said Alghabra, also citing the impacts of the pandemic, climate change and Russia's war in Ukraine on global supply chains.
"Today's announcement here at the Port of Windsor is just one example of our efforts to ease the pressure on our supply chain."
The National Trade Corridors Fund, established in 2017, is a federal fund to help make trade corridors more efficient and increase Canada's efficiency in global markets. The program has $4.6 billion in funding allocated through 2028.