City staff calculated fare-free transit would cost the owner of a home assessed at $415,000 an extra $482 a year in property tax.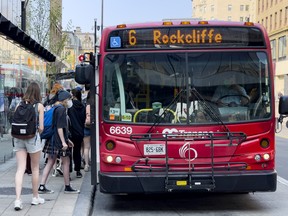 Article content
The mayor and two mayoralty hopefuls say a proposed study of the cost to make transit fare-free or more heavily subsidized isn't worth its projected price tag of $700,000 to $900,000.
Article content
"I've never been an advocate for this so-called free transit and it's not free because someone has to pay for it," Mayor Jim Watson said Wednesday. "If you're not paying at the fare box, then you're going to pay for it on your property tax bill and a 13-per-cent hit on your property taxes, from my perspective, it's not a wise decision."
In April, city council asked staff to study the benefits and pitfalls of providing free transit, including how the lost revenue would affect OC Transpo. The city turned to Toronto transit expert Brendon Hemily for an outline of such a study. The city estimates Hemily's report would take a year and cost between $700,000 and $900,000.
Watson said it wasn't worth the cost "to tell us something that we already know."
Article content
Mayoralty candidate Mark Sutcliffe, an entrepreneur, was quick to dismiss the proposal this week. "We don't need to spend $900k on a consultant's study to tell us what every taxpayer already knows: we can't afford to make transit free. Let's work together to fix light rail and improve bus service," Sutcliffe tweeted.
A former mayor with his eye on the job again was also dismissive. Bob Chiarelli said in a tweet he wants a "top to bottom" review of OC Transpo by an outside auditor. "We can all agree those who need a hand up should be supported, and they are through monthly community and equi-passes," Chiarelli tweeted. "As mayor, I would not support transferring the full cost of OC Transpo fares to the property tax bill."
Article content
The city report looked at three scenarios: Making transit fare-free for all riders, costing OC Transpo some $209 million a year in lost revenue; reducing the percentage of OC Transpo's operating costs covered by fare revenue to 30 per cent from the current 45 per cent; and eliminating the annual 2.5-per-cent hike in transit fares.
City staff calculated fare-free transit would cost the owner of a home assessed at $415,000 an extra $482 a year in property tax. For someone in an $800,000 home, the tax hike would be $930.
Scenario two would cost those homeowners $162 and $313 more a year, respectively. The last scenario, to end the annual increase, would cost $11 and $22 more in taxes, respectively.
Somerset Ward Coun. Catherine McKenney, who is also running for mayor this fall, said they (McKenney's preferred pronoun) support paying for the study. "It's absolutely worth investigating. We have to move toward free transit if we want a modern city that's green, healthy and connected," they said.
Article content
"Putting out a report that shows an annual cost to each homeowner was meant to discourage the conversation. But we've got to have that conversation."
Part of what fares pay for is the system of collecting fares itself, McKenney said: Presto cards and readers, the storefronts rented to sell tickets, fare inspectors, etc. The issue has to be looked at holistically, they said, with the city seeking more support from the provincial and federal governments.
"Every level of government has a goal for climate change, of greenhouse gas reduction. And a big part of that is getting cars off the road. It's perfectly appropriate that we could appeal to other levels of government for some of that operational funding."
Kitchissippi Ward Coun. Jeff Leiper, who favours doing the study, conceded it was "a high bar to clear" to convince homeowners to accept higher taxes for fare-free transit, but said the increase is still less than the $1,500 annual cost of a bus pass for one household member.