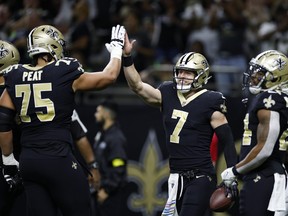 Article content
The best and the worst of fantasy football in NFL Week 5.
Article content
Josh Allen, QB, BUF
424 passing yards, 4 passing TDs, 1 INT, 42 rushing yards, 36.1 points.
Had already cleared 300 passing yards before the first half ended en route to a blowout win.
Austin Ekeler, RB, LAC
173 rushing yards, 26 receiving yards, 2 TDs, 33.9 points.
He has now found the endzone five times in the past two games after being shutout over the first three.
Article content
Leonard Fournette, RB, TB
56 rushing yards, 83 receiving yards, 2 TDs, 30.9 points.
Led the Bucs with 11 targets and 10 receptions, ending up with 24 touches on the day.
Gabriel Davis, WR, BUF
171 receiving yards, 2 TDs, 30.6 points.
Got off to as good of a start as possible – scoring a 98-yard touchdown.
Tyler Lockett, WR, SEA
104 receiving yards, 2 TDs, 24.9 points.
Article content
Picked up his first two scores of the season
Taysom Hill, QB/TE, NO
22 passing yards, 1 passing TD, 112 rushing yards, 3 TDs, 34 points.
He was the Saints' Swiss Army knife, routinely coming up with big plays in key situations.
Dallas Cowboys DEF
10 points allowed, 5 sacks, 1 INT, 2 fumbles recovered, 1 blocked kick, 1 TD, 23 points.
Even with Micah Parsons ailing, the Cowboys defence applied the pressure on the Rams.
Nick Folk, K, NE
5 FGs, 179 FG yards, 2 PATs, 19.9 points.
DUDS
Jared Goff, QB, DET
229 passing yards, 1 INT, 7 rushing yards, 1 fumble lost, 6.8 points.
Couldn't do much against a Pats defence prepared to take away the short stuff.
Najee Harris, RB, PIT
20 rushing yards, 16 receiving yards, 5.1 points.
It's starting to look like this season is going to be a struggle for the sophomore.
Article content
Chase Edmonds, RB, MIA
1 rushing yard, 0.1 points.
Didn't catch either of his two targets and was out-touched 19-1 by Raheem Mostert.
A.J. Brown, WR, PHI
32 receiving yards, 4.7 points.
After catching three balls on the opening drive, Brown didn't have a reception for the rest of the game.
Christian Kirk, WR, JAC
11 receiving yards, 1.6 points.
With one catch against the Texans, he now has a total of three over the past two games.
Jaylen Waddle, WR, MIA
23 receiving yards, 3.8 points.
A second straight rough outing for the sophomore. Looks like he might need Tua to really shine.
I HOPE YOU STARTED
With Jahan Dotson out, it was Dyami Brown who took over the rookie WR's role and put up quite similar numbers. The Washington backup had two catches which both went for TDs and a total of 105 yards. That was good for an excellent 23.5 points this week.
Tevin Coleman joined the 49ers practice squad a couple of weeks ago but has now become Jeff Wilson Jr.'s backup. He got some decent work in the blowout win, racking up 67 total yards and two TDs for a smooth 20.2 points.
To get the latest fantasy updates throughout the season, be sure to sign up for our newsletter at You'll even get the '10 Commandments of Fantasy Football' as a bonus!