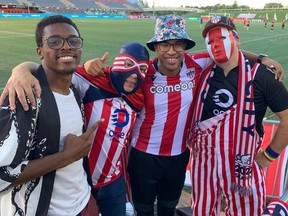 Reviews and recommendations are unbiased and products are independently selected. Postmedia may earn an affiliate commission from purchases made through links on this page.
Article content
Standing on a ledge off the bottom row of stands, steady drum beat beside him and megaphone in hand, Eddie Benhin begins the chant to the more than 200 standing spectators above him.
Article content
"Come on you boys in red," Benhin preaches, to the tune of Yankee Doodle.
Article content
The words echo back from the fans, most wearing Atletico Ottawa colours, some of the men shirtless.
"Come on you boys in stripes," Benhin says, once again hearing a returning chorus.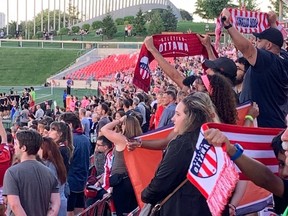 And on and on it went at Atletico's last home game against Edmonton FC on Sept. 2, one Ottawa-modified soccer hymn —  "Don't take me home", "Ottawa till I die," "When Ottletti go marching in", or "Red is the colour" — after another.
Article content
As for the sights, pink smoke from the flares is in the air and the flag representing the Capital City Supporters Group — a beaver emblazoned over top of broad red and white stripes — is being waved wildly. For some reason, a T-Rex shaped balloon bounces atop the fans.
Article content
The party scene in Section W — affectionately known as The Dub — has become a major part of the entertainment package at every Atletico game at TD Place.
If the non-stop energy and enthusiasm in the crowd seems to run counter to the city's reputation as a bureaucratic town with a relatively polite, quiet fan base, well, that's entirely on purpose.
"We want to blow it out of the water here, break that status quo," says the engaging Benhin, a Carleton University student with a gift for the gab and a flair for inspiring fans that made him a natural for the role known to soccer aficionados as a capo.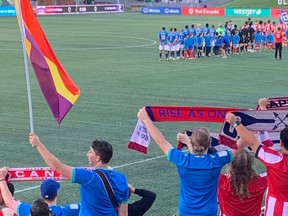 "I had no experience, but I do have a loud personality. I was in the right place at right time. It has been fantastic."
The goal is to bring a little bit of European football culture to Ottawa, but it's novel enough in these parts that a disclaimer is needed.
Article content
"This section will have singing, standing, flags, smoke, explicit language, crowding, jumping, drumming, megaphones, people not sitting in assigned seats and more!," reads the notice outside the section.
Despite that, or more likely because of it, the merry mood and crowds continue to grow.
None of the above has come easy.
As Atletico has made a tremendous leap on the field and poised for a playoff run — they enter Saturday's regular season finale at TD Place in first place in the Canadian Premier League standings with a record of 13 wins, five losses and nine draws after finishing dead last a year ago — the CCSG has fuelled the rise in passionate support.
"A lot of people are doing heavy work and we've raised the standards of (fan) support groups on every level," says CCSG president Daniel Duff, who vowed to use his film, entertainment and digital media background to create a full service spectator group when Atletico launched in the midst of the pandemic in 2020.
Article content
Even without fans in the seats — the CPL played "bubble games" until midway through the 2021 season — the fan group was able to establish a presence through slick social media branding, including podcasts and a lively Twitter stream.
Fans with particular skills, such as Benhin and capo partner Brandon Adibe, are keeping the movement rolling.
A "chant bible", with words to the songs, is on the website.
Formal CCSG membership has grown to 500 from below 200 midway through the 2021 season.
The supporters keep negotiating with the Ottawa Sports and Entertainment Group for additions to the lively environment, including the giant "OLLIEWOOD" letters behind the east-side net, in reference to star midfielder Ollie Bassett.
Article content
"You see different cultural backgrounds," says Duff. "Maybe it's a flavour of what they saw before in Milan or Beirut. We don't want fans to give up their support for Manchester United, but when they're done watching Manchester United, they can get a flavour of that here that they can't get by watching on TV."
Marco Mendoza, who grew up watching the game in Mexico, was drawn in by the atmosphere in section W.
"I've made a lot of friends through this," says Mendoza, who was sporting an Atletico-themed mask and cape at the Edmonton game.
The crew of section regulars nearby includes Ben Showers and Bryce Crossman, also notable for his colourful wardrobe.
Occasionally, the noise and what Showers calls "respectful banter" has got under the skin of visiting players.
Article content
As for Atletico players, they can't help but feel motivated by the support.
A crew of 100 also made its presence felt on a bus trip against Toronto's York FC midway through the campaign.
"The supporters are one of the reasons we are where we are," said Atletico chief financial officer Fernando Lopez. "That York game on the road was probably our best game of the year. It's unbelievable. It's electric. The last home game, I almost cried. There were supporters walking around to other sections with signs, trying to animate the rest of the crowd, to get that same atmosphere throughout the entire stadium.
"It's very emotional, the bond between the players and the fans," said Lopez. "Hopefully, more people can feel it and if keeps growing, it will be like a furnace."
Atletico Ottawa continues push to stay atop standings as CPL playoffs approach

Front running Atletico make no apologies for defence first approach to success
Twitter.com/Citizenkwarren