'Meanwhile, we have no Catholic high schools in the southwest, with huge demand'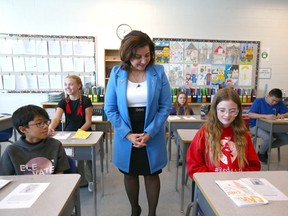 Article content
Calgary families fear large class sizes will grow even more after the UCP's new schools announcement this week only granted full funding to two local projects.
Article content
As part of Budget 2023, Education Minister Adriana LaGrange announced funding for up to 58 new schools and modernizations. But only 13 qualified for full construction funding, with the remainder listed for design, planning or pre-planning money.
Article content
Within those 13 projects, only two were listed in Calgary — the Calgary Board of Education's modernization at John G. Diefenbaker High School, and the Calgary Catholic School District's new K-9 school in Nolan Hill.
"To just get one measly new school is absolutely shameful," said Krista Li, who sits on the West Calgary Catholic High School advocacy group.
"Our school board has lost the courage and the willingness to advocate for us. Instead, we have a board that's willing to just stay quiet and take the scraps.
Article content
"Meanwhile, we have no Catholic high schools in the southwest, with huge demand, and overcrowding at the existing public high school (Ernest Manning)."
Li estimated class sizes are well over 40 students in high school core courses at Ernest Manning, at 17th Avenue and 69th Street S.W.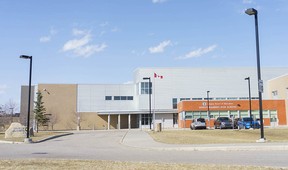 But parents are also frustrated at the lack of information on class size averages after the UCP in 2019 removed the requirement for boards to report the numbers.
When asked about the policy change, the UCP has said boards are still free to report even though it's not required. But both CBE and CCSD have said they no longer report class sizes because it's not required.
"Students know, parents and teachers know, exactly how large classes are," Li said. "It's ridiculous how the government and school boards just hide those numbers now."
Article content
Li and the West Calgary Catholic High School advocacy group have been lobbying for years to get pushed higher up on the board's capital plan priority list.
Last year, southwest parents were devastated when the west Catholic high school was moved from No. 5 on the priority list to No. 9, while another high school in the deep south community of Rangeview was bumped to No. 8.
New southwest high school moves further out of reach for Catholic families

Catholic high schools look to balance enrolment, reduce overcrowding
According to CCSD's latest capital plan, Rangeview's high school is at No. 5, while West Calgary's sits at No. 8.
CCSD officials were grateful for one new school in Nolan Hill, but also admitted they have not received any information from the province as to how much funding they will receive for construction.
Article content
"CCSD is currently awaiting further information regarding this project. Construction costs will vary with the specifics relative to approval," said Manique Werapitiya-Galle, spokeswoman for CCSD, adding that K-9 schools take 10 to 12 months to design followed by 14 to 16 months of construction.
CBE officials were also grateful for full funding of one modernization at John G. Diefenbaker High School. And while that project is listed as a $29-million undertaking, CBE officials say they have not yet received confirmation of how much money they get.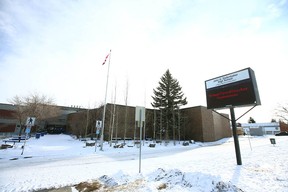 "Although approvals have been announced, exact amounts and scope of work for modernizations were not part of the announcement," said CBE spokeswoman Joanne Anderson.
Article content
"Next steps for these modernization projects will be led by Alberta Education and supported by Alberta Infrastructure and the CBE to further define the scope of work and the associated budget required for each project.
"Until such time as this work has been completed, we are not in a position to comment on the total project value or schedule."
CBE's priorities include mostly modernizations after officials told board trustees earlier this year that the province's new funding formula provides maximum dollars to schools that are at 85 per cent utilization or higher.
But Medeana Moussa, spokeswoman for the Support Our Students advocacy group, argued the UCP is forcing school boards to overcrowd their schools to get funding.
Article content
"It means that schools that have manageable class sizes don't get the funding . . . so what does that mean for the educational experience of our students, to be in schools where class sizes are not manageable?"
Moussa added she was shocked that CBE — Western Canada's largest school board, which received nearly 6,000 new students this year alone — only qualified for full funding of one high school modernization.
"For this government, in the face of such a huge surplus, to only grant Calgary — one of the largest growing municipalities in the country — only one new school and one modernization is really insulting to Calgarians."
Alberta Education said Thursday that new schools and modernizations listed for planning and pre-planning are still a priority.
Article content
Budget 2023 is committing $372 million to projects this year, which includes $4 million to 14 different schools for planning, site analysis and scope development, and another $1 million for pre-planning or conceptual development of projects.
However, all school boards listed for planning or pre-planning supports must resubmit projects every year to be considered for full construction funding.
Calgary Board of Education Top 5 Capital Plan priorities:
John G. Diefenbaker High School (modernization $29 million)
Annie Gale Junior High School (modernization $8.1 million)
A.E. Cross Junior High School (modernization $18 million)
Sir John A. Macdonald Junior High (modernization $14 million)
Saddleridge Middle School Gr. 5-9 (new school $1.2 million)
Calgary Catholic School District Top 5 Capital Plan priorities:
Nolan Hill K-9 School (new school $27 million)
Chestermere K-9 School (new school $27 million)
Redstone Elementary School (new school $22 million)
Bishop McNally High School (modernization $10 million)
Rangeview High School (new school $50 million)