Kinky Boots tells the story of Charlie Price (Sayer Roberts), who inherits his father's dying shoe business in the English industrial town of Northampton.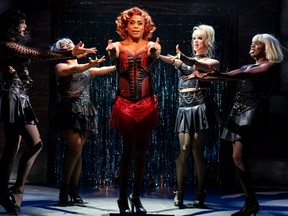 Reviews and recommendations are unbiased and products are independently selected. Postmedia may earn an affiliate commission from purchases made through links on this page.
Article content
Kinky Boots
When: Until July 31
Article content
Where: Stanley Industrial Alliance Stage, 2750 Granville St., Vancouver
Tickets and info: From $43 at artsclub.com
What a month for musical theatre in Vancouver as two Broadway blockbusters arrive in the city for the first time. On the heels of Hamilton come the high, red, ultra-flashy heels of Kinky Boots in a sometimes scintillating homegrown production from the Arts Club.
With a book by drag expert Harvey Fierstein (he wrote La Cage Aux Folles), and decent music and lyrics by pop queen Cyndi Lauper, Kinky Boots tells the story of Charlie Price (Sayer Roberts), who inherits his father's dying shoe business in the English industrial town of Northampton. Teaming with Simon, who goes by the nom de drag Lola (Stewart Adam McKensy), Charlie retools his factory from making conservative men's shoes to designing and producing outrageous high boots for the drag queen market.
Article content
Along the way unlikely friendships are made, lessons learned, girlfriends switched, and Charlie and Lola's mutual daddy issues are partially resolved. But the main takeaway: men in drag are exponentially more dynamic and compelling than the straight variety, at least onstage.
Dull Charlie only minimally transforms under Lola's influence, even when he himself dons the kinky boots, but Lola blows the roof off from her first big song, "Sex is in the Heel." While Roberts sings beautifully, McKensy's supercharged vocals are explosive. Lola and her Angels, four dancers in drag, energize Charlie's factory workers as well. By the finale the entire ensemble is rocking along to "Raise You Up" with Ken Cormier's seven-piece band. 
Article content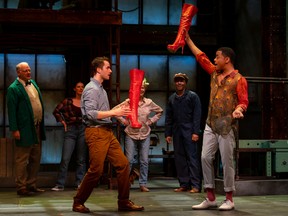 Barbara Tomasic directs a first-rate cast in conjunction with a sterling production team. In a show foregrounding drag queen culture you would expect eye-popping costumes. Designer Barbara Clayden doesn't disappoint, from those amazing boots to wigs and everything in between. Pam Johnson's primary set is the versatile two-level Price shoe factory interior, which at one point turns into a boxing ring with stanchions provided by drag dancers' extended legs.
Johnson's tour de force is a conveyor belt on which Tomasic has a series of characters dance, glide and slide like something out of Disney's Fantasia. Choreographer Julie Tomaino saves much of her best work for the drag queens, who vogue and shimmy when they're not high-kicking us into delirium.
Article content
Tomasic also gets excellent performances from secondary characters. Andrew Wheeler is a very funny George, Charlie's proper office manager, who sees the truth long before his boss does. Kayvon Khoshkam shines as macho, homophobic Don, whose baiting of Lola generates the excellent production number "What a Woman Wants," and whose unlikely transformation trumps Charlie's.
Kelli Ogmundson plays Lauren, the simple factory girl who, almost Hallmark-like, Charlie realizes suits him better than his slick squeeze Nicola (Jocelyn Gauthier). Ogmundson gets a major star turn with her delightfully energetic rendering of one of the show's best songs, "The History of Wrong Guys."
Jennifer Copping (Pat) shows off her dance chops in an impressive tango with Lola. And in a performance full of meta-subtext, Colleen Winton plays Trish, a worker who frequently objects to and resists Charlie's childlike behaviour. In real life Winton is Sayer Roberts' mother.
On opening night I heard several complaints about the absence of printed programs. If this is a money-saving strategy, the company might sell programs for a modest price like TUTS does. A program on the phone is a poor substitute for the pleasures and convenience of one in the hand.