Article content
Life is different for comedian Iliza Shlesinger since the last time she performed in Windsor.
Article content
The 39-year-old stand-up comic, actress and author welcomed her first child — daughter Sierra Mae — into the world in January.
Now Shlesinger has practically transformed herself into the face of motherhood. Inviting US Weekly to follow her for a day, and launching an endorsement deal with Willow (a brand of wearable breast pump).
"When you don't have children, it's fully impossible to imagine yourself as a mom, or doing mom things," Shlesinger tells the Windsor Star. "Now I wear baggy pants. I sigh when I see little animals in pictures."
"The other day, I was watching (the movie) Inglourious Basterds, and right before a Nazi got his head bashed in, my thought was: 'Aww, he has a mother.'"
But don't expect Mommy Iliza to be kinder and gentler when she hits the Colosseum stage later this month. Indeed, Shlesinger says being responsible for another human being has made her tougher in her judgments of the world at large.
Article content
"Motherhood adds a complexity to being a comic, but it doesn't define who I am as a comic," Shlesinger declares.
"I can definitely say I judge the world harsher now — because I'm terrified that we're going to leave over this tire fire of a gong show to our children."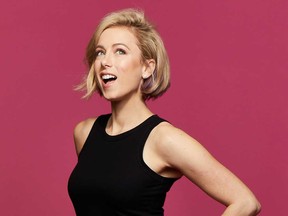 Fans may remember that when Shlesinger spoke with the Star before her show in Windsor in 2019, she couldn't help but express her worry about a climate crisis eventually putting the region underwater and killing us all.
"I think that to be a person in our society, you have to be conscious and politically aware," Shlesinger reasons. "(Climate change) isn't hilarious comedy material, but I think being a harsher critic of society makes for better comedy."
Don't expect any physical softness from Shlesinger, either. Known for her fitness, Shlesinger made a deliberate decision to work herself back into shape post-pregnancy.
When she appeared on the Jimmy Kimmel show in early May, she walked out in a snug green dress you wouldn't expect to be worn by a woman just four months after giving birth.
"Everybody has a body, and whatever they do with their body is their choice," Shlesinger explains. "But I decided I was going to try to get back to what I felt was comfortable, as quickly as I could."
"I started doing Pilates and I just made an effort. Your body will never quite be the same (after a baby), but it is a nice feeling to be able to put on my black jeans that I wore before. They might be a little tight now, but they still fit."