The majority of the committee voted in favour of a motion put forward by Councillor Landon Mohl to implement a mandate. The issue will go to city council next week for a final vote.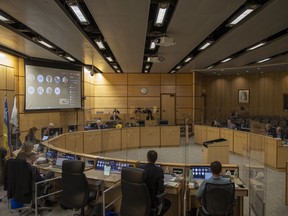 Article content
While critics say the cost of mandating automated sprinklers in new residential builds overshadows the benefits, advocates says there's no price too high to save a life, and Regina's executive committee agreed.
Article content
"One person's death is unacceptable when we have the ability and power to be proactive and potentially save their lives," Coun. Landon Mohl (Ward 10) said during a meeting Wednesday.
At the meeting, executive committee took several hours to consider a report penned by administration that summarizes a jurisdictional review and stakeholder consultation that explored the cost and implications of mandating sprinklers in all new residential builds.
Despite a recommendation from administration to stick with the status quo, the majority of the committee voted in favour of a motion put forward by Mohl to implement a mandate. The issue will go to city council next week for a final vote.
Six delegations presented to the committee, all but one in favour of a mandate. Delegations ranged from fire safety advocates to sprinkler system installation companies. Stu Neibergall, president and CEO of the Regina & Region Home Builders' Association was the sole delegation in opposition.
"Any decision to mandate this increase that will impact home ownership and affordable rents should not be taken lightly," Neibergall said.
Costs would range, depending on the type of build, from $4,000 to $15,000, according to estimates included in the report. Of the two cities reviewed in the report, Swift Current required sprinklers in neighbourhoods that did not meet National Buildings Code requirements and in Calgary, the requirement was developer-driven.
Article content
"$12,000 of additional cost removes 2.2 potential homeowners from qualifying for a new home mortgage," Neibergall, while also noting that everyone who presented to the committee Wednesday had their own motives, including his own association.
"They have motivations that they want people to buy or rent homes and so they are very sensitive to anything that would increase the price that pushes people out of that market. The delegates before me and after me, they've got strong motivation to sell more sprinklers," he added.
While he in no way argued sprinklers aren't a great safety tool, he questioned the need for a mandate to tackle a low death rate due to fire and argued there are other things that would cost less and would help increase fire safety in the city.
According to Regina Fire and Protective Services, there were a total of 10 fire fatalities in Regina from 2017-2021, none of those in newer communities.
But those speaking in favour of a mandate appealed to council's compassionate side, sharing stories of families who have lost loved ones in fires. They also argued sprinklers are a way to improve not only the health and safety of residents, but firefighters as well.
"Both viewpoints have validity," Sean Pearce, a former chief officer with Toronto Fire Services and a fire protection consultant, but he said cost is a factor that must be accepted and instead of ruling out the idea of a mandate, should prompt partnerships among stakeholders to drive change.
Article content
Seniors and children are more likely to perish in a fire, he said, which speaks to those age groups' ability to self-rescue or even make a 911 call, making an automatic sprinkler even more essential until help arrives. Having lost friends to smoke-related cancers due to their work, he said there is great value in decreasing exposure in any way a city can.
According to the city, municipalities have the ability to mandate such things, but it would have to go through the provincial government for approval. While it does not recommend a mandate at this time, it pointed to the city's Fire Master Plan's emphasis on education and awareness as a way to improve fire safety across Regina.
Part of the Fire Master Plan includes partnerships with stakeholders like homebuilders to encourage them to offer residential sprinklers as an option in their home designs and allowing the customer to decide.
If approved by council next week, all new residential builds after Jan. 1, 2023 would require sprinklers.
The news seems to be flying at us faster all the time. From COVID-19 updates to politics and crime and everything in between, it can be hard to keep up. With that in mind, the Regina Leader-Post has created an Afternoon Headlines newsletter that can be delivered daily to your inbox to help make sure you are up to date with the most vital news of the day. Click here to subscribe.