With the help of investors, he's building a sports training facility with a focus on coaching and hopes to establish a mentorship program.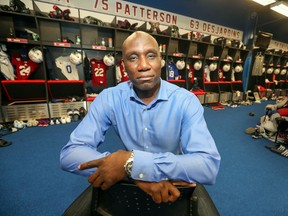 Article content
As he approaches his 50th birthday in February, former Alouettes general manager Kavis Reed is taking stock of his life.
Article content
And, while he's not necessarily done with football, he's finished with the CFL. A part of his life since 1995, when the former defensive back began his playing career with Edmonton, until July 2019, when he was fired by Montreal with allegations of mismanagement hanging over his head.
Article content
"I have no desire to return to the CFL — let me put that out there," Reed told the Montreal Gazette this week. "Football is not my life. It's not my identity. It's what I did. I've never solicited for a job; that's not me.
"You're just a caretaker when you're a part of the league. You're not a game-changer."
Although Reed, who lives in Edmonton, worked with the junior Wildcats last season as offensive coordinator, he decided against returning because he's involved in a business venture in the city he hopes will lead to him becoming that game-changer who left his mark.
Article content
Reed, with the help of investors, said he's building a sports training facility with a focus on coaching. His idea is to establish a mentorship program that would allow former coaches the platform and ability to develop the next generation.
Inside the CFL: Former Alouettes GM Reed sheds light on Montreal ouster

Alouettes keep reason for firing of general manager Kavis Reed close to vest

'A lot to prove this week,' Alouettes QB Harris says of Elks rematch
"We don't embrace the people of the past," Reed said. "They need to pass along their knowledge and experience. The problem isn't player talent, it's the development process. We can't develop talent if we don't have coaches that understand how to develop talent.
Article content
"There's a shortage of officials in minor football, and sometimes games have to be cancelled. We need to have intern programs to learn how to be officials, equipment managers and video coordinators instead of recycling them."
Reed, who launched his coaching career in 2001 after a career-ending neck injury in 1999, said his greatest experience starting out in that profession was sitting in a hotel room for hours with the late Don Matthews, a former Als head coach, and listening to him explain the intricacies of the game.
"He was one of the most brilliant tacticians," Reed said. "Do we have that anymore? How do you get new coaches injected into the league and keep them? It takes a bit of ingenuity and innovation. There are solutions out there."
Article content
Reed believes the time has come to attempt to grow football in Canada. But he said the CFL needs to identify its priorities. Much like commissioner Randy Ambrosie has repeatedly stated, Reed said engaging new audiences is the biggest hurdle.
"The issues keep perpetuating," he said. "The problems in 1995 still exist. We're always discussing attendance. I think this league has a lot of potential, but we often don't see the forest for the trees."
Reed said he still follows the CFL, and the Als in particular. When his schedule permits, he attends Elks home games and hopes to be at Commonwealth Stadium on Saturday, when Edmonton hosts Montreal.
twitter.com/HerbZurkowsky1