A total of 15 people have been charged in Project Cobra, which also netted 19 guns, 11 vehicles and two mansions in Ontario and Nova Scotia
Article content
Law enforcement agencies from Canada and the United States have seized an estimated $55 million in drugs and $7 million in assets in one of the largest such busts in Alberta's history, leading to 80 charges against 15 people.
Article content
The Alberta Law Enforcement Response Team (ALERT) along with the RCMP, Calgary Police Service, Edmonton Police Service and the United States Drug Enforcement Agency seized 928 kilograms of methamphetamine and six kilograms of cocaine during a three-year investigation dubbed Project Cobra. The project also netted 19 firearms, including handguns, rifles, submachine guns and suppresssors, and 11 vehicles and two mansions — one in Niagara On The Lake, Ont., and one in Halifax County, N.S. Bank accounts and other suspected proceeds of crime were also seized.
Article content
"We've heard the saying, cutting the head off the snake in order to cripple a criminal network. Well, Project Cobra didn't just cut off the head of the snake, these dedicated men and women took the whole damn snake," said ALERT CEO Marc Cochlin.
Article content
Cochlin said Project Cobra is one of the largest investigations in Alberta's history and it could break records. Project Cobra was launched in 2020. In December, 2011, police executed 11 coordinated search warrants.
Drugs were seized in California, Wyoming, Saskatchewan, British Columbia and Calgary throughout the investigation.
"The numbers are staggering," said Cochlin. "$55 million in drugs intercepted. Nearly one metric ton of methamphetamine that was destined for Alberta communities. The amount of harm that mountain of meth brings to our communities is very disturbing."
Primary investigator on Project Cobra Tara McGill said the drugs are believed to have originated in Mexico and are linked to cartels in that country. Calling the investigation one of the most successful in the history of ALERT, she said Project Cobra targeted an organized crime group that was defined by a single name or ethnicity, and that officers were able to target suspects from street-level dealers to the head of the group.
Article content
"The criminal organization . . . operated at an extremely complex, sophisticated level," said Mcgill. "A Calgary-based business was also charged with laundering the proceeds of crime."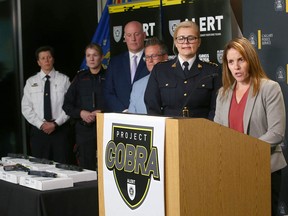 McGill said there were approximately 300 police officers and civilian staff who worked on Project Cobra over the past three years. U.S. Homeland Security Investigations, U.S. Customs and Border Protection, Canada Border Services Agency, Niagara Regional Police, Canada Revenue Agency, Financial Transactions and Reports Analysis Centre of Canada were all involved in the investigation. RCMP units in Ontario, Nova Scotia, Saskatoon, North Battleford, Sask., and Osoyoos, B.C assisted in the project. 
"It began from intelligence-led policing. Information that there were drug traffickers involved in the importation of meth into Canada. Eventually, the investigation itself revealed that it was transnational, it was larger than anything that we had  actually anticipated."
Article content
Elias Abde, 38, from Calgary is charged with 12 offences, Abdul Akbar, 37, from Calgary is facing eight charges, Tianna Bull, 25, from Calgary, is facing one charge, and Lina El-Chammoury, a 50-year-old from Calgary, is charged with two offences.
Russel Ens, 38, from North Battleford, Sask., is charged with two offences, while Talal and Belal Fouani from Calgary are each charged with three offences. Kari-Lynn Grant , 51, from Calgary, is facing four charges, and Scott Hunt, a 33-year-old is facing three charges.
Jarret Mckenzie, 32, Jesse Marshall, 52, Daniel Menzul, 32, and Sean Nesbitt, 44, all from Calgary, face a variety of charges.
Ricco King, 50, from Bedford, N.S., is facing five charges, and William Whiteford, a 39-year-old from Leduc County, is charged with 20 offences.
Article content
Fouani Equity Funds Ltd. is charged with participation in a criminal organization.
McGill said King is the alleged leader of the group. He is facing a charge of drug trafficking, three counts of participating in a criminal organization and two counts of laundering proceeds of a crime.
King was previously charged with conspiracy to import cocaine into Canada in 2016. Those charges were stayed after a judge ruled his trial, as well as the trials of his co-accused at the time, had been unreasonably delayed.
All the suspects arrested in Project Cobra were charged in Calgary where they are expected to be tried in court.