Vehicles sold in Quebec are getting larger and require more gas, Equiterre says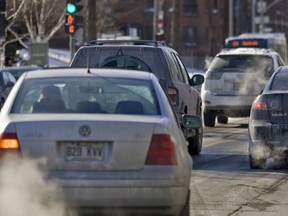 Article content
With the size of vehicles on Quebec roads increasing, the environmental group Équiterre has renewed its call to limit or ban the advertising for gas-guzzling SUVs and trucks.
Article content
Between 1990 and 2019, sales of sport-utility vehicles (SUVs) and light trucks increased by 284 per cent, while car sales decreased by 29 per cent in Quebec, according to a recent study by HEC Montreal's Chair in Energy Sector Management. The same study noted that while vehicles are becoming more fuel efficient, the gains in fuel efficiency are being offset by the trend to buy bigger vehicles.
Article content
"It's a question of consistency, because we can't set the goal of electrifying our vehicles by 2035 and continue to promote them (gasoline-powered trucks and SUVs)," said Andréanne Brazeau, mobility analyst at Équiterre
The organization says new rules are needed for advertising sport-utility vehicles and gasoline-powered light trucks if Quebec wants to succeed in reducing greenhouse gases in the transportation sector.
Article content
Brazeau suggested restricting the advertising practices of the automobile industry, similar to the regulations that were put in place to limit the promotion of tobacco products.
"Lifestyles ads where someone is playing tennis with a cigarette in his hand were banned before other tobacco ads were banned," said the Équiterre analyst, suggesting a progressive regulation like for tobacco.
"We could ban ads in which vehicles drive in places where it makes no sense and where, in fact, it is illegal to drive," explained Brazeau, referring to ads in which large vehicles drive through streams or fields, destroying nature.
Montreal ponders 'zero-emissions zone' in city centre