Nation-wide the workforce that was first upended by massive job losses at the beginning of the COVID-19 pandemic is being upended again by multiple forces.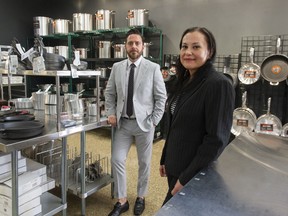 Article content
Restaurant supplier Russell Hendrix's managers had to do a lot of juggling in the company's flagship showroom to cover for two floor sales jobs that took months to fill, even offering $1,000 signing bonuses.
Article content
"Vancouver was a challenge for me before the pandemic, but the pandemic just made it a lot harder," said Anna Blaszczynska, the company's vice-president of human resources, who has taken the "unprecedented" step of using a recruiting agency to find those showroom sales reps, which is usually an entry-level position.
Article content
And with B.C.'s province-wide unemployment rate near record lows, 4.8 per cent as of August, according to Statistics Canada's labour force survey, Blaszczynska doesn't know "if there's going to be an end to this."
B.C. isn't alone. Nation-wide, the workforce that was first upended by massive job losses at the beginning of the COVID-19 pandemic is being upended again by multiple forces.
In many cases, workers aren't returning to jobs they lost, having opted to switch careers. Then there is the simple demographic pressure of workers retiring faster than new candidates entering the workforce.
Article content
"I think the unemployment rate is very low in Vancouver, and I also think COVID has changed sort of the mindset of people who are looking for a job," Blaszczynska said. "People want flexibility, people want to work from home, people want different types of benefits that I think they got used to with COVID."
Russell Hendrix's challenge is to continue rebuilding its staff in step with a hospitality sector that has its own difficulties finding workers to ramp up for the demands of increased tourism and special events that were curtailed for two years.
A lot of restaurant employees who lost jobs during the pandemic had options in health care, technology, or places such as Amazon warehouses, said Ian Tostenson, CEO of the B.C. Restaurant and Food Services Association.
Article content
"And those companies probably did a good job of retention," Tostenson said.
Tostenson said the industry's estimate is that they are still short 30,000 to 35,000 employees in a hospitality workforce of some 190,000.
"There historically have been so many young people in the system — up until the last, say, five or six years — that were available to work, (so recruiting) was never an issue," Tostenson said. "Now, we have to become an employer of choice."
Job vacancy statistics back up the estimates of that challenge, according to economist Bryan Yu, with B.C.'s hospitality sector reporting 12.2 per cent of all the jobs vacant in the second quarter of 2022.
"Those sectors, even though they're not back to where they were on a pre-pandemic employment level, they're also seeing the biggest challenge in finding employees," said Yu, chief economist at Central 1 Credit Union.
Article content
Then other occupations in the professional services sector and construction trades, which were tight before the pandemic, are even more starved of employees to the point of actually slowing employment growth.
Employment vacancies peaked in June, when Statistics Canada reported a record 179,000 unfilled want ads. Compared with the number of unemployed people, B.C. had a ratio of 0.7, meaning for every 10 vacancies there were seven potential candidates.
"Job growth in recent months has kind of been flat, and I think part of that is that people just can't find the employees," Yu said.
B.C.'s labour market was already beginning to tighten before the pandemic started, said economist Ken Peacock with the Business Council of B.C. Construction trades have had difficulties recruiting for years.
Article content
Public-sector job growth, notably in health care and education, has had a significant impact on reducing unemployment rates, Peacock said. Private-sector job growth has been less impressive.
Since the pandemic, however, Peacock, vice-president and chief economist for the council, said demographics have begun to catch up with the workforce as people now are beginning to retire faster than new workers are entering.
And among the legions of workers who lost jobs in hard-hit sectors, Peacock said many did take up more secure careers, but some simply haven't returned to the workforce.
"Maybe half of those people who wouldn't have lost jobs in a more permanent manner (in tourism and hospitality) rotated into other industries, and maybe roughly half of those people haven't come back into the labour market."
Article content
Peacock cautioned that wage rates also factor into the equation. People are unwilling to fill some jobs at prevailing wages, "but at a higher wage rate, you might not see the same intensity of shortages."
Regardless, Peacock said the shrinking pool of available workers to fill vacant jobs is becoming a limit to economic growth itself.
"I would say that we're generally at a point where tight labour markets are constraining the capacity (of businesses) to expand," Peacock said. "Yeah, definitely."
Looking into 2023, however, Peacock said the Bank of Canada's moves to raise interest rates to quell inflation will help alleviate some of the worst labour shortages as the economy slows down.
twitter.com/derrickpenner