Ottawa Public Health is offering vaccines to eligible clients at its sexual health clinic and operating ongoing vaccination clinics at Centretown Community Health Centre.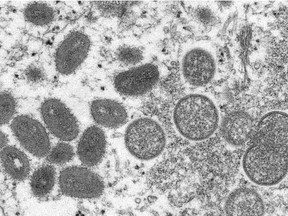 Article content
A month after the first case was identified in Ottawa, 11 cases of monkeypox have been confirmed in the city, Public Health Ontario says.
Article content
The majority of cases in Ontario remain centred in Toronto, where 124 have been laboratory-confirmed. Cases are also beginning to show up in smaller centres, including Leeds, Grenville and Lanark, which reported its first confirmed case earlier this week.
There are now 156 confirmed cases of monkeypox across Ontario and eight suspect cases: all but one of whom are men.
The average age of confirmed cases is 37.3 years and the most common symptoms being reported include rash, oral or genital lesions, swollen lymph nodes, headache, fever, chills, myalgia and fatigue.
Just nine of the people with confirmed cases have had to be hospitalized, according to PHO.
The province's chief medical officer of health, Dr. Kieran Moore, noted recently there had not been rapid growth in cases of monkeypox, which he attributed to the vaccination strategy.
Article content
More than 8,000 people across the province have been administered smallpox vaccine which is being given to those who contract the virus, their close contacts and anyone considered at risk.
Ottawa Public Health is offering the vaccine to eligible clients at its sexual health clinic and operating ongoing vaccination clinics at Centretown Community Health Centre.
The vaccine is available to people who have been exposed to the virus plus people who received diagnoses of bacterial sexually transmitted infection in the past two months, have had two or more sexual partners within the past 21 days, have attended a venue for sexual contact within 21 days, had anonymous casual sex during the same time period or engaged in sex for work.
Article content
Monkeypox, which is in the same family as smallpox, had been rarely seen outside of parts of Africa, where it is endemic, until this year when cases began spreading in many parts of the world.
On Tuesday, as global cases reached 9,200, the World Health Organization announced it would convene a second emergency meeting next week to determine whether monkeypox posed a global health threat.
The cases have been reported across 63 countries since earlier this year. There were slightly more than 6,000 cases reported globally as recently as July 4.
Health officials say monkeypox, which causes a rash and lesions along with flu-like symptoms, is not a sexually transmitted disease and can be spread through close contact. Most cases to date have been among men who have had sex with men.
The virus can enter the body through broken skin, the respiratory tract or the mucous membrane, including the eyes, nose or mouth.
Risk of infection is low for the general population, the Public Health Agency of Canada says.