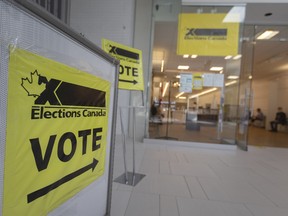 Article content
Terri Knight Lepain equates planning the upcoming municipal election to organizing a wedding for 150,000 of her closest friends — and she wants everyone to show up.
Article content
In response to circulating concerns about the number of polling stations secured for this October, Windsor's manager of records and elections told the Star voters "shouldn't notice a difference" in quantity from 2018, but said they might cast their ballots at new locations.
As with provincial and federal elections held during a global pandemic, polling stations in schools are out of the mix for this municipal election to help prevent the spread of COVID-19, should another surge occur, and to address pre-pandemic problems with voter parking during school drop-off and pick-up hours, she said.
The city is instead seeking locations close to schools, arranging polling stations at churches, event centres, and even funeral homes.
Article content
"We really thought outside the box as to what type of facility and location we can offer to voters," Knight Lepain said. "Our No. 1 criteria when we look at polling locations is accessibility to the voter."
Amna Masoodi, a part-time engineering student at the University of Windsor, is one of those who reached out to Knight Lepain within the last several weeks worried about an apparent drop in polling station numbers. An incomplete map of locations previously posted on the city's website showed a significant decrease in the number of places where people could cast a ballot.
An updated list and map will likely be posted online by the end of the month, Knight Lepain said.
Reassured for the moment that the city will maintain the number of polling stations available during the previous municipal election, Masoodi, 25, told the Star she hopes local election officials keep their word.
Article content
"I was super-worried that polling stations would become really inaccessible," she said. "I was thinking about all the people that don't have the privilege of having access to a vehicle, who wouldn't be able to vote."
We want to make it exciting, and we want people to get out there and vote
Knight Lepain said she doesn't want people "to worry that they won't be able to vote," or that their voting location will be inaccessible.
"That's the opposite of our mission here. We want it to be accessible, we want to make it exciting, and we want people to get out there and vote."
Knight Lepain said her team have plastered city maps to her office wall and use Google Maps to virtually walk through neighbourhoods, scouring Windsor for new polling station possibilities. Once they've reached out to a location, they go for an in-person tour, taking note of parking, ramps, stairs, elevators, available electrical outlets, and even space inside for people to line up while maintaining physical distance during a potential rainstorm.
Article content
Since Windsor has held a municipal election under COVID conditions — the Ward 7 byelection held in October 2020 — other municipalities have reached out to the city for advice, Knight Lepain said.
Two years ago, the city received positive feedback on its drive-thru advanced polling, so they're looking to do it again, this time for five days, possibly at the WFCU Centre and Mic Mac Park. Residents would be able to vote from their vehicles, or show up on bicycles or on foot and vote under a tent.
An additional three days of advanced polling indoors are also scheduled for locations around the city not yet finalized.
Transit Windsor will offer free rides to polling stations on election day, Oct. 24. Those interested must show the driver their voter's card to ride.
Article content
Holt announces he's running for the Windsor mayor's job

Ward 3 Coun. Bortolin not seeking re-election, mayor's seat Author of the article:

Facing lame duck status, council set to pre-approve $45M land purchase loan
Knight Lepain said she's "encouraged" that people are talking about the election "this early." Those interested in running still have until Aug. 19 to file their candidacies.
"We've been planning for the better part of a year, but we're encouraged to see dialogue in the media and on social media — people are talking about it already," she said.
"We hope that leads to an increase in voter turnout and that people are interested not only in the electoral process that we offer, but also in the candidates and the issues."