Robin Tyler John is charged with aggravated assault and unlawful confinement. He will be held in custody until his next court date on Oct. 6.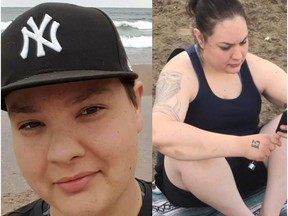 Article content
On Friday, Robin Tyler John appeared in the prisoner's box of a Saskatoon provincial courtroom to face Megan Gallagher's supporters.
Article content
Many wore red bunny hugs with Gallagher's picture on the back. Others wore orange Every Child Matters t-shirts to honour the National Day of Truth and Reconciliation.
Article content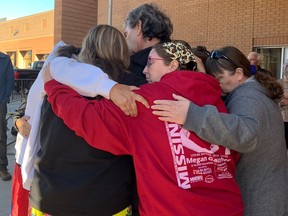 John, a federally serving inmate, was arrested at prison this week and charged with aggravated assault and unlawful confinement in connection with Gallagher's disappearance and death on Sept. 20, 2020.
He is the eighth person charged in connection with Gallagher's homicide after four new arrests were made this week and murder charges were laid for the first time.
In court, Judge Bruce Bauer imposed a no-contact order between John and the seven other co-accused people. When asked if that would be a problem, John replied "Not at all."
He will be held in custody and is scheduled to return to court on Oct. 6.
Article content
John, 34, received a two-year prison sentence in 2014 for an impaired driving crash in Saskatoon that killed 17-year-old Quinn Stevenson. His blood-alcohol level was more than twice the legal limit when he ran a red light and crashed into Stevenson's car on Aug. 3, 2013.
In 2021, he received a sentence of more than five years for several firearms offences.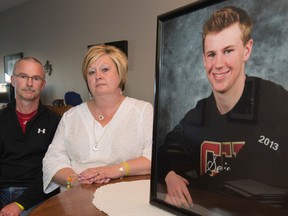 Earlier this week, Robert James Thomas, 27, and Cheyann Chrystal Peeteetuce, 29, were charged with first-degree murder. Both were remanded in custody until their next court dates on Oct. 6.
Peeteetuce also has a history of impaired driving causing death. In 2014, she ran a stop sign at the intersection of Avenue M and 22nd Street in Saskatoon while fleeing police, crashing into a car and killing two Bethlehem High School students, James (J.P.) Haughey and Sarah Wensley.
Article content
She was sentenced to six years in prison, breached her statutory release, and was in custody on several driving-related charges when she was arrested.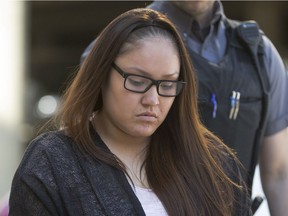 Thomas Richard Sutherland, 42, was arrested this week and charged with unlawful confinement and aggravated assault. Police say he was also serving a sentence at the time of his arrest.
Jessica Badger (Sutherland), Roderick William Sutherland, John Wayne Sanderson and Ernest Vernon Whitehead were charged this spring with offering an indignity to human remains. Of the four, only Sanderson remains in custody.
Badger is scheduled to appear on Oct. 3, Sutherland on Oct. 13, Sanderson on Oct. 6, and Whitehead on Oct. 19.
On Thursday, police found human remains during the first day of their search for Gallagher on the river near St. Louis, Sask. They said testing still needs to be done to determine identity.
The news seems to be flying at us faster all the time. From COVID-19 updates to politics and crime and everything in between, it can be hard to keep up. With that in mind, the Saskatoon StarPhoenix has created an Afternoon Headlines newsletter that can be delivered daily to your inbox to help make sure you are up to date with the most vital news of the day. Click here to subscribe.