The seeming inevitability of a CAQ landslide has left many English-speaking Quebecers wondering whether it's even worth bothering to vote. It is.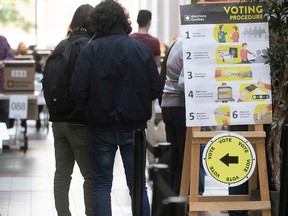 Article content
For English-speaking Quebecers, this has been an unusual election campaign. In past years, the Quebec Liberals were usually the only real choice for our overwhelmingly federalist community. This time, however, there are alternatives to consider and healthy competition for anglophone voters' support. Suddenly, we're popular!
Article content
That's a nice feeling. But it also means there are choices to be made about who is best equipped to represent us in the National Assembly.
Article content
Like other Quebecers, English-speakers are not monolithic. They may lean left or right. They may prioritize the environment and climate, or their overarching concern might be economic development. They may think the Coalition Avenir Québec government's responses to the pandemic were appropriate, or they may be critical. While concern about the crumbling state of our health care system is pretty much universal, opinions may differ about how to improve it. Like their fellow Quebecers, English-speaking Quebecers are also concerned about inflation and the state of the education system.
Article content
All voters are well advised to take a closer look at the policies offered up by the various parties — and at whether they have qualified and credible leadership — to find the best matches for their own convictions and priorities. And even if sovereignty is not a front-burner issue, parties' positions on that perennial existential matter should be borne in mind.
For English-speaking Quebecers there are additional considerations. Fundamental issues are at stake, including protecting language rights, assuring the vitality of our community and ensuring that Quebec is inclusive of minorities — our linguistic minority and others. Who is best placed to advance these interests?
There are also tactical calculations to make about the best way to achieve the desired result, or at least, maximize the potential for influence. Is it better to elect people from major parties who will bring English-speaking Quebecers' concerns to the table within caucus, or to elect independent voices who need not toe a major party's line, but will be perennial outsiders? There is not a clear answer, but one thing to consider is the danger that adopting a combative, oppositional style will play into the hands of hard-core nationalists who paint English-speakers as hostile to the majority, and would serve to deepen divisions rather than advance interests.
Article content
The past four years of CAQ government have been harsh ones for the English-speaking community and other minority communities. Bill 21, which in effect discriminates against religious minorities in the name of laïcité, remains an open wound for many. Bill 96 reduces the space for English in myriad ways. Bill 40, still before the courts, appears to trample constitutional minority-language education rights. Recent, distressing comments about immigration and immigrants sound like fear-mongering about "the other."
"Continuons" is not a reassuring slogan.
The seeming inevitability of a CAQ landslide has left many English-speaking Quebecers wondering whether it's even worth bothering to vote.
It is. This campaign has shown that when English-speakers' votes appear to be up for grabs, at least some parties will make an effort to address our concerns.
Not only is voting a precious right that should be exercised, staying home would be a strategic mistake that undercuts what influence the community can hope to wield. We need not speak with one voice on Monday, but it's essential for each of us to speak up.
Fariha Naqvi-Mohamed: Vote for the Quebec you wish to see

Opinion: It's vital that English-speaking Quebecers' voices be heard

Robert Libman: It's time for Quebec anglos to make a statement