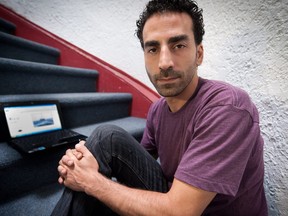 Article content
As we all know, because the Trudeau government constantly reminds us, that it is appalled by displays of anti-Semitism and works vigorously to condemn them immediately.
Article content
Except that's not what the testimony of Diversity and Inclusion Minister Ahmed Hussen before Parliament's Standing Committee on Canadian Heritage revealed Friday.
Article content
Hussen said that after he was informed by fellow Liberal MP Anthony Housefather of vile comments by federal anti-racism consultant Laith Marouf aimed at Jews, francophones and other minorities on July 19 or 20, he waited a full month, until Aug. 19 — when the media began reporting on the issue — to publicly renounce them.
Marouf's most infamous tweet — although it was just one among many — was:
"You know all those loud mouthed bags of human feces, aka the Jewish White Supremacists; when we liberate Palestine and they have to go back to where they come from, they will return to being low voiced bitches of thier (sic) Christian/Secular White Supremacist Masters."
Article content
Hussen said he wished he had condemned Marouf's ravings earlier but was hamstrung by the bureaucratic process necessary to withdraw a $133,000 grant the government had awarded to Marouf's Community Media Advocacy Centre to develop an anti-racism strategy for broadcasters.
Well, sorry, but Hussen's explanation for delaying his response doesn't pass the smell test.
What it looks like really happened here was that Hussen didn't say anything until he could organize a government response showing he was already dealing with the issue, thus hoping to avoid the main question.
That is, how could the government have possibly hired Marouf in the first place?
As Conservative MP Melissa Lantsman asked Hussen, didn't anyone do a Google search on Marouf before hiring him?
Article content
Apparently not, given that Hussen and Marouf jointly announced the anti-racism strategy for broadcasters on April 14, with the feds describing the CMAC as "a non-profit organization supporting self-determination in media through research, relationship-building, advocacy and learning."
This wasn't a one-off blunder either, as Marouf's organization also received funding from the Canadian Radio-television and Telecommunications Commission.
The real story, we suspect, is that the government's politically correct racism minders didn't automatically reject Marouf's hateful ravings, as long as they were couched in hatred of Israel.