B.C. NDP leadership race: Will David Eby's plan to allow rentals in all B.C. strata buildings create new housing, or increase vacancies?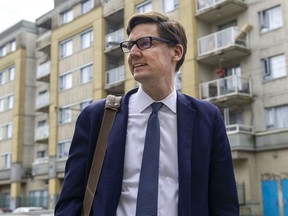 Article content
David Eby's plan to allow rentals in all strata buildings will do little to ease the provincial rental shortage, while "opening the door" to speculators, says the executive director of the Condominium Home Owners Association of B.C.
Article content
But a Vancouver tenancy lawyer disagrees, saying "housing is housing" and allowing the owners of all B.C. strata units to rent them out is a good thing.
Article content
A few days after the B.C. NDP leadership hopeful released his housing platform, housing experts continue to examine the plan, which could bring big changes to several parts of the B.C. housing and rental market if Eby becomes premier.
In addition to a flipping tax to deter real estate speculators and the legalization of secondary suites in every region in B.C., Eby said he'd bring in a law to prevent strata corporations from limiting rentals and make it illegal to have 19-plus age restrictions that force out young families when they have a child.
But Tony Gioventu, executive director of the Condominium Home Owners Association of B.C., said the plan may have unintended consequences by making strata units more desirable to speculators, thereby increasing vacancy rates.
Article content
While strata units built after 2010 cannot forbid rentals, many older units restrict or limit rentals to a certain percentage of units. As a result, the properties are "not attractive to investors," he said.
A 2017 survey by Gioventu's organization found developments built before 2010 with rental restrictions had vacancy rates of less than one per cent. Buildings constructed after 2010 with no rental restrictions had far higher vacancy rates, often between 15 to 20 per cent, because units were purchased by speculators who sometimes rented them out, but sometimes didn't. Rental rates were also higher.
Gioventu said removing rental restrictions from pre-2010 buildings would make those units attractive to speculators, who could buy several units in the same building and wield their votes to prevent the strata from doing necessary maintenance, ultimately pushing for redevelopment.
Article content
"I appreciate (Eby's) attempt and willingness to look at housing issues globally, but to lay the problem on strata is not fair," he said.
Gioventu pointed out that strata fees, insurance and taxes often add up to $1,000 per month, meaning units will not be rented out for less than $2,000 "at the very least" and will do little to increase the province's supply of affordable housing.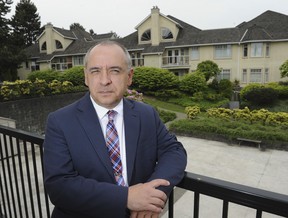 (START OPTIONAL CUT)
There are about 34,000 strata developments with 720,538 units in B.C., which provided homes for more than a quarter of British Columbians. It is difficult to estimate how many of those units could be freed up for tenants if the restrictions were eliminated because there is no obligation for strata to report to the province whether they have rental bans.
Article content
But B.C.'s speculation and vacancy tax hints at the number of new rentals that might come onto the market with the proposed changes.
From 2018 to 2021, an average of 3,428 strata units in B.C.'s biggest urban centres were listed as vacant or underutilized, but received an exemption from the vacancy tax because their strata limited rentals. That tax exemption is set to end this year.
David Hutniak, CEO of the industry group LandlordBC, said his organization is concerned about property rights. While strata are an important source for secondary market rental housing, he said there is a greater need for "increased emphasis on, and incentives for, the creation of purpose-built rental housing, which offers much greater security of tenure for renters."
Article content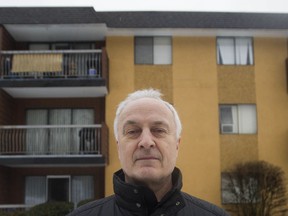 But Robert Patterson, a lawyer with the Tenant Resource and Advisory Centre, an advocacy organization, said rental restrictions on pre-2010 strata developments effectively "seals off" an entire housing sector from renters.
While there is no "silver bullet" solution to B.C.'s housing crisis, removing the restrictions is an important step to helping some families find a home.
He was happy to see Eby release a platform, but cautioned that the issue is a "Gordian knot" that intersects with several other challenging issues, including the overdose crisis and climate change.
"What we're doing now is clearly not working," he said. "We need a fundamental rethink of the policy of business as usual."
Eby's proposed housing plan, called B.C. Builds, would see the province work with First Nations, local governments and private and non-profit partners in urban and rural areas to fast-track the approval process. It would also allow developers to replace a single-family home with up to three units in major urban centres.
Article content
The plan will "level the playing field" by chasing out real estate speculators and tax cheats and increasing housing supply, he said.
Among the more controversial aspects of the plan is to create targets on how many housing units should be built in each B.C. municipality, which if not met, would allow the province to step in and approve housing projects.
"With the (population) growth that we're seeing, we can't have cities that are opting out of housing. It's essential infrastructure like electrical wires and sewage," said Eby. "We can't have families that are forced or priced out of communities because the city is not approving that housing."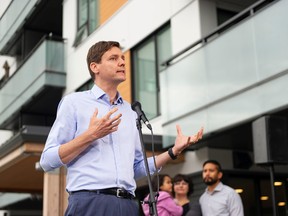 That drew immediate backlash from some B.C. mayors, including View Royal Mayor David Screech, who said he was "appalled" and "gobsmacked" by Eby's plan to steamroll municipal governments.
Article content
"I can only hope that the rest of the NDP caucus realize that waging wars with the municipalities is not going to be a productive strategy," Screech told Postmedia. "To use a hammer like this is just not acceptable."
The mayor said such a policy would undoubtedly face a court challenge.
Eby's plan was endorsed by Union of B.C. Municipalities president Jen Ford, who said in a statement on Twitter that it "sets out a balanced approach that will resonate with many local government leaders."
Eby's platform also calls for a flipping tax that will apply to the sale of a residential property. The tax rate, which Eby did not specify, will be highest for those who hold properties for the shortest period of time and goes down to zero after two years.
Article content
He promised to earmark $500 million to provide grants to non-profits so they can purchase rental buildings slated for redevelopment and protect renters living in the older buildings from displacement. He'd like to see a law ensuring right of first refusal giving non-profit housing societies first crack at buying low-rise buildings up for sale.
Ending 'renter bias': The arguments for and against ending rules that limit rental housing

B.C. NDP leadership race: Eby's housing policy includes flipping tax, legalized secondary suites and increased density

Allowing rentals in all strata units wouldn't create any new housing: condo group
With files by Katie DeRosa, Lori Culbert and Dan Fumano
Related