"As conservatives, we believe in freedom of choice; so there are people wearing masks and those who are not."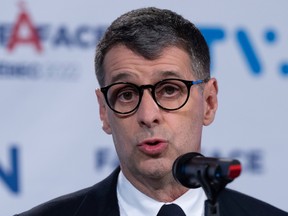 Article content
NICOLET — A Quebec Conservative government would launch a public inquiry into the government's handling of the pandemic, as one of its first orders of business.
Article content
Speaking at the Chambertin seniors residence in the small town near Trois-Rivières Sunday morning, leader Éric Duhaime said it's vital to shed light on the pandemic's death toll to ensure the same mistakes are not repeated in the future.
Article content
"The question of the transfer of patients from hospitals to long-term care homes is (something we want to know about)," Duhaime told reporters. "This wasn't in the mandate of (Coroner Géhane Kamel). If there is another crisis in six months or one year or two, what guarantees that we won't make the same errors that caused 6,000 deaths? We have to know how it happened, and what guards we need to put in place between institutions so that we never again propagate a virus they way we did."
Article content
Duhaime, who took part in a rally with more than 2,000 people in Quebec City two nights before, did not wear a mask as he met several elderly residents. Quebec's public health department recommends people wear a mask if they come in close contact with those who are vulnerable or immunocompromised. None of the seniors were wearing masks either.
Duhaime, who rose to popularity by opposing public health restrictions, explained that he and his fellow candidates had asked beforehand if they should wear a mask, and were told it was not required.
When asked if as premier he would require healthcare workers to wear masks in seniors residences, long-term care homes and hospitals, Duhaime did not answer, but said he would follow the recommendations of the province's public department.
Article content
"I would ask public health what to do," he said, adding that he's not sure there is a benefit to wearing masks, claiming the Institut national de santé publique du Québec came out with a study that was inconclusive.
He said for now, he's not recommending any of his candidates wear masks when they visit people on the campaign trail.
"As conservatives, we believe in freedom of choice; so there are people wearing masks and those who are not," he said.
Duhaime said the reason there were forced shutdowns of businesses, restaurants and bars is that the government poorly managed the healthcare system and that led to a widespread crisis in hospitals and long-term care facilities.
"Because the government mismanaged the institutions under its responsibility, (Premier François Legault) had to shut down the businesses of others who were doing no wrong," he said. "That's what we complained about and a lot of seniors agree with us."
Article content
Other points in the Conservative party's nine-point plan for seniors include:
increasing the budget for home care to avoid seniors having to go to long-term care facilities;
increasing subsidies for institutions helping seniors in their homes;
providing a tax credit of $23,000 for seniors ages 60 and older to return to the workforce, and $25,000 for those 65 and older;
allowing seniors to take out "autonomy insurance" to pay into a fund that could be used to provide home care services in the event of a loss of autonomy;
decentralizing services to nonprofit organizations helping seniors;
creating programs for the elderly to prevent social isolation, like volunteering to help children with homework;
providing financial support to family caregivers;
relaxing rules around the construction of multi-generational homes.