But the Conservative leader says the CAQ is "stirring up the COVID stew" because it feels threatened.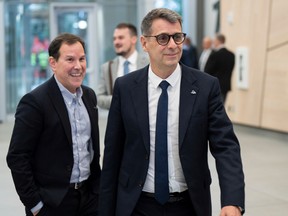 Article content
For the second time in two days, Coalition Avenir Québec Leader François Legault on Friday launched a verbal attack on Quebec Conservative Leader Éric Duhaime, charging that the latter's opposition to health regulations imposed during the COVID-19 pandemic disqualifies him not only for the job of premier, but that of party leader as well.
Article content
But the target of the attack suggested later that "it smells a bit like panic" over at the CAQ, which was "stirring up the COVID stew" because it feels threatened by the Conservatives.
Article content
During Thursday night's leaders debate, Legault attacked Duhaime head-on, saying the Conservative leader's opposition to the pandemic regulations showed he is not fit to be premier.
Speaking to reporters on Friday while campaigning in Laval, Legault said, "Profiting from the distress of some people to win votes doesn't make any sense. That isn't the kind of leader we want in Quebec."
Legault also compared Duhaime with former U.S. president Donald Trump, although he did not explicitly mention Trump's name.
"(Duhaime) makes me think of someone in the south who denies reality. … Name him, you know very well who I'm talking about. … The Institut du Québec, for Éric Duhaime, is a conspiracy."
Article content
Legault said Duhaime had failed in his responsibilities and that failure was worrisome. The CAQ leader said Duhaime had encouraged people to ignore the directives from public health officials.
Legault said he could understand why people would be tired of the regulations imposed during the pandemic, but added that he could not understand why a political leader would take advantage of the situation.
Until now Legault has avoided giving too much attention to Duhaime, but his tone appears to have changed, perhaps because of the popularity of the Conservatives in the Quebec City region, an area held by the CAQ.
Speaking to reporters, Duhaime did not address Legault's allusion to Trump, but said he is "absolutely not" an agitator. The Conservative leader said that it is normal to fire up the troops.
Duhaime said Legault did not have a good night during the debate, poorly defended his government's record and was now looking for scapegoats.
"Mr. Legault will have to tolerate opinions different from his own."
Tap here for complete Quebec election coverage

Debate analysis: Barbs fly as Legault goes on the attack to keep his job

Party chiefs to woo Quebec municipal leaders as election campaign enters final stretch