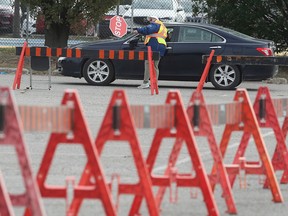 Article content
A steady stream of dozens of vehicles rolled through a parking lot at Mic Mac Park on Saturday illustrating how drive-thru voting for the upcoming municipal election in Windsor proved be a hit with local residents.
Article content
Voters wishing to cast their ballots in advance for the Oct. 24 election were provided the opportunity to do so without even leaving the comfort of their vehicles.
Article content
City officials set up four lanes with large tents where vehicles after lining up could advance inside, provide their identification and voter notification card, then receive the appropriate ballot for their ward.
"It's our second time doing drive-thru voting," said Terri Knight-Lepain, the city's manager of records and elections. "We did one for the by-election for Ward 7 two years ago in 2020 (due to COVID-19 restrictions). It was wildly popular at that time. We got a lot of positive feedback.
"We are always looking for ways to make voting more accessible and encourage voter turnout. So, we thought let's give it another try."
Article content
After voters pulled into a tent, election workers collect identification, then provide it inside the tent to a deputy returning officer who crosses the vehicle occupants off the voters list. Those not registered on the list can also be added on with proper identification that shows their address.
"Everything here is electronic," Knight-Lepain said. "The officer prints a ballot for them and places it in a secrecy sleeve. We take the ballot to the vehicle. There can be multiple people in the vehicle and everyone will have their own ballot.
"They mark their ballots and we take them to the electronic tabulator. Once their vote is registered, the vehicle gets a thumbs up and they can exit The whole process once inside the tent takes two to three minutes."
Article content
The drive-thru voting lanes were available at Mic Mac park on both Saturday and Sunday. Another opportunity for Windsor's voters to utilize drive-thru voting to cast their ballots in advance will also be staged by the city this upcoming weekend at the WFCU Centre on Friday, Saturday and Sunday between the hours of 10 a.m. until 6 p.m.
In terms of necessary identification, voters can bring a health card, passport or driver's license. If they do not have formal identification, then a utility bill with your name and address on it will also be accepted.
"We are very encouraged by the turnout we have seen," said Knight-Lepain on Saturday. "We are really excited about this election and would encourage everyone to get out to vote, whether it's drive-thru or on voting day at the location near their home."