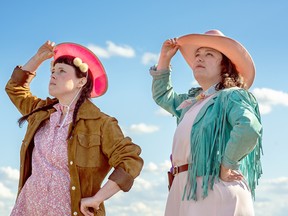 Reviews and recommendations are unbiased and products are independently selected. Postmedia may earn an affiliate commission from purchases made through links on this page.
Article content
In his iconic song Make 'Em Laugh from the 1952 movie musical Singin' in the Rain, Donald O'Connor insisted the whole world wants to laugh.
Article content
Downstage Theatre's artistic director Clare Preuss couldn't agree more which is why laughter will be the focal point of her 2022/2023 season.
It's not as easy as it first sounds because the subject matters of Downstage's first two plays are potentially quite controversial.
Downstage's October offering Gender? I Hardly Know Them is a queer sketch show about gender and how people now wish to be perceived and addressed. It is created and performed by Eli Belyea and Sydney Campbell and talks about how they grew up in Edmonton gay, hot and short.
It had a sold-out, held-over run at the Edmonton Fringe Festival and was just the runaway hit at this year's Revolver Festival in Vancouver, Preuss says.
"Because it is sketch comedy, Eli and Sydney are constantly tweaking and polishing it. It is always super fresh and dynamic and the version Downstage will get in October will be even more dynamic, topical and more fun."
Article content
Downstage presented the world premiere of Belyea's Smoke in 2019, which is currently running in Edmonton.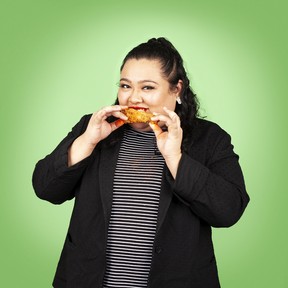 In February Downtage is teaming up with Theatre Calgary and Alberta Theatre Projects for the world premiere of The F Word a new comedy created and performed by Keshia Cheesman and Bianca Miranda about confronting body image and being considered fat.
"Theatre Calgary helped with the development of this play in 2019 through workshops. Then earlier this year TC gave Keshia and Bianca another one-week workshop so they have been behind this project since its inception," says Preuss, who was also talking with Rohit Chokhani, the artistic director of ATP, while the play was in development.
"Rohit was always very supportive and wanted to become involved and on June 9 he committed to present The F Word in the Martha Cohen Theatre from Feb. 9 to19. It was always Keshia and Bianca's dream to perform The F Word in the Martha Cohen."
Article content
Preuss says she is beyond happy with how things have worked out for The F Word.
"It speaks volumes to me that these two iconic theatre companies are this supportive of this new play," she said. "Downstage has always been interested in introducing Calgary audiences to topics that can be uncomfortable to discuss. Ideas around gender and fatness are changing rapidly in our society, yet so many people have a hard time discussing these important and timely subject matters. The plays we have chosen for this season to approach these topics are fresh, fun and full of playful possibilities."
"They will definitely entertain their audiences but with a social change element to them."
The final part of Downstage's new season is a Festival of New Works which will run in the Arts Common's Motel Theatre from May 11 to 14. Downstage is working with four emerging local, national and international producer-creators who will have a chance to showcase their work in Calgary.