"Questions have been raised about the integrity of our membership list." — B.C. NDP's provincial director, Heather Stoutenburg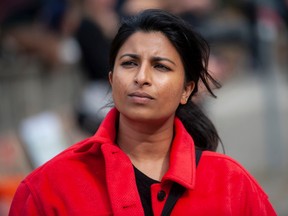 Article content
The B.C. NDP appear worried about a hostile takeover of the party by B.C. Green members and supporters of insurgent leadership candidate Anjali Appadurai, which has led to an aggressive campaign to root out "fraudulent" new members.
Article content
Supporters fear the NDP is preparing to disqualify Appadurai as a candidate, which would secure a coronation for front-runner David Eby and anger thousands of people who joined the party to vote for the climate activist.
Article content
In the course of the NDP's internal investigation into Appadurai's campaign, party officials have asked the B.C. Greens to share its membership list — a request that was turned down — scoured social media to look for evidence that new NDP members were previously affiliated with the Greens and contacted new members asking them to prove they're no longer members of the B.C. Green party.
On Friday, the NDP sent a letter to the B.C. Greens asking that a neutral third party be appointed to analyze both parties' membership lists to look for overlaps.
Article content
The B.C. NDP's provincial director, Heather Stoutenburg, wrote that "questions have been raised about the integrity of our membership list" and the party's "usual audit of our membership list before a leadership vote has revealed a significant number of current and former B.C. Greens applying for membership in the B.C. NDP."
Stoutenburg said "current and former Green members have told us directly that they told the B.C. Greens to temporarily suspend their memberships so they could join the B.C. NDP to vote in our leadership election and then return to your party. Others have also told us that they remain B.C. Green members and supporters despite their application for membership in the B.C. NDP."
The Greens turned down the request on Friday, citing the privacy of their members.
Article content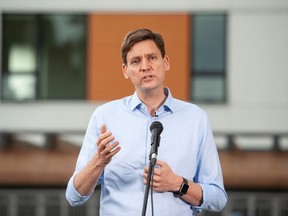 Stoutenburg said in a statement the party is conducting complaint-driven investigations and random spot checks into memberships, the latter of which "have indicated a significantly higher rate of ineligible individuals compared to a random audit of the membership list as it stood on the day John Horgan announced he would resign." 
Rik Logtenberg, a city councillor in Nelson, posted on Twitter last week the text of an email from the NDP asking for written confirmation of the date his membership with the Green party ended.
Logtenberg, who endorsed B.C. Green party leader Sonia Furstenau in the 2020 election, shared an email from the party confirming he's not been a member since July 29, 2021. Logtenberg, who said his wife and several friends received similar queries, told Postmedia News the tactics used by the NDP amount to voter suppression.
Article content
"I worry there's a campaign to disqualify (Appadurai)," Logtenberg said.
Appadurai did not return a request for comment.
In an Oct. 6 Twitter post Appadurai said she's "disturbed to hear that new NDP members are being aggressively questioned and subjected to some sort of a loyalty test. All new members should be welcomed to the party with open arms."
While it's not against the rules to switch from one party to another, NDP rules prevent membership in two parties at the same time.
Only those who have been an NDP member in good standing for 90 days are eligible to vote for the new leader by Dec. 3, which means the deadline for membership sign-ups was Sept. 4.
Appadurai could be disqualified from the race if the party's chief electoral officer, Elizabeth Cull, finds she breached agreements in her nomination package or provided inaccurate, false or incomplete information. The NDP executive is set to meet on Oct. 19, which is when they'll likely decide on Appadurai's candidacy.
Article content
If the party bars Appadurai from running, it will be a "public relations disaster" and a cudgel used by the Liberals and Greens, said University of British Columbia political scientist Gerald Baier. But it's unlikely to have long-term political consequences in terms of lost votes, he said, since many of Appadurai's supporters are already disenfranchised with the NDP government.
"Dropping Appadurai is not going to offend the party loyalists," Baier said.
Eby, former attorney general and housing minister who represents Vancouver-Point Grey, has touted his support from 49 of the 57 NDP MLAs. Eby's leadership bid has already been approved by the party.
However, there's been criticism from party insiders that Eby took his front-runner status for granted and failed to sign up as many members as Appadurai, which could jeopardize his aspiration to succeed John Horgan as B.C.'s 37th premier.
Article content
The party has not confirmed how many new members have joined the NDP since the leadership race began. The party had about 11,000 memberships going into the race.
Political parties have the right to disqualify candidates if their actions or statements could put the party into disrepute.
The B.C. Liberals rejected Aaron Gunn as a leadership candidate in 2021, after a review of his social media posts uncovered views the party said would be inconsistent with its "commitment to reconciliation, diversity and acceptance of all British ­Columbians."
Gunn went on to help the B.C. Conservative party, which ran candidates in the Vancouver-Quilchena byelection in April won by B.C. Liberal leader Kevin Falcon, and the Surrey South byelection in September, won by Elenore Sturko for the Liberals. The Conservatives secured 7 per cent and 13 per cent, respectively, in the two byelections.
Article content
The B.C. Liberal party also had a membership audit before the Feb. 5, 2022 leadership vote after allegations of questionable sign-ups, including new members listing addresses in areas where there are no homes and some who had no idea they had been signed up as a Liberal supporter.
During the NDP leadership campaign eventually won by Adrian Dix in 2011, NDP MLA Mable Elmore was caught on cellphone video stapling $10 bills to party membership forms, a violation of the Election Act which prohibits indirect political contributions.
Appadurai's campaign faced a similar complaint after supporter Atiya Jaffar, during a Sept. 4 Instagram Live video, offered to pay the $10 NDP membership fee for anyone who could not afford it. Appadurai insists Jaffar misspoke and did not follow up on her offer.
Elections B.C. is also looking into the political activities by Dogwood B.C., which raised money to publish online ads and set up a phone bank to contact its supporters, many of them Green party members, encouraging them to join the NDP and elect a "climate champion" to the premier's office.
The elections oversight body will review whether those activities constitute a political contribution, which can only be made by "eligible individuals" and are capped at $1,390. Organizations are prohibited from making political contributions.