Cancelling the benefit means doctors are stomaching higher costs as they continue to treat patients with COVID-like symptoms.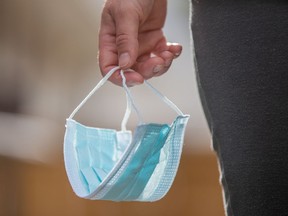 Article content
Saskatchewan doctors are hoping the provincial government reinstates a plan that helps fund PPE costs for physicians after the program was cancelled earlier this summer.
Article content
Saskatchewan Medical Association President Dr. John Gjevre said on Friday the funding is important because PPE puts an extra cost on physicians who can't raise their rates.
Article content
"it's not a huge expense, but it does add up when you see multiple patients every day. And you and your staff and the patients all need a mask," Gjevre said in an interview.
The Ministry of Health said in an emailed statement earlier this week it discontinued the PPE benefit as of June 30 because it believed the COVID-19 situation improved in Saskatchewan.
By early summer 2022, it stated, the "pandemic response had been strengthened by high vaccination and booster rates, the availability of free rapid tests and the increased availability of COVID treatments."
Article content
It added that these efforts "allowed Saskatchewan to achieve high vaccination coverage and reduced the harms of COVID-19."
Throughout the summer, however, public health employees working at SHA facilities have been required to wear a mask.
Gjevre said community-based clinics run by doctors have the same risks and concerns as SHA facilities. He noted Saskatchewan's chief public health officer has decided masks should be worn in health centres.
"COVID is not over," he said. "Hospital and clinic facilities are places where there are, by definition, some sick people. And so in order to try to control and reduce transmission of COVID in health-care facilities, it makes sense to continue with a masking policy."
Article content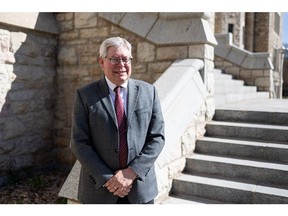 Sask. doctors want in to bolster urgent care, reduce wait times

Sask. ponders physician assistants to relieve health-care strains
Gjevre said he had assurances from Health Minister Paul Merriman the benefit would come back in the fall. When asked if it would be reinstated, the ministry didn't provide a response by deadline.
The PPE benefit, which began in November 2020, provided self-employed physicians with funds to offset the costs to purchase PPE. The initial benefit was $250 per month but was later increased to $350 per month in March 2022. It has been subject to review on a quarterly basis.
Dr. Adam Ogieglo, a family doctor and partner at Lakeside Medical Clinic in Saskatoon, said the removal of the benefit means they now have higher costs.
Article content
"We're being essentially penalized for agreeing to see people that have COVID-like symptoms," said Ogieglo, noting he would like to see the benefit reinstated. "The more clinics that are seeing COVID-like patients, the less likely they are to send people to the emergency room."
Even though the ministry stated the COVID-19 situation has improved, people continue to be hospitalized or experience other severe outcomes.
The ministry has reported a slight rebound in COVID-19 infections and chief medical health officer Dr. Saqib Shahab has said more outbreaks and cases this fall are probable.
Ogieglo said he has seen lots of viral respiratory tract infections this summer. Normally, he would see these cases in the winter, he said.
Article content
"It felt a bit like a good old fashioned winter 2019, but it has been plus 30 degrees," he said. "So it's very unusual. And that's continued."
Ogieglo's clinic, like multiple health centres across Saskatchewan, have also been extremely busy as they deal with staffing shortages and an influx of patients.
Gjevre, who has been touring various communities in the province, said the primary care system is "very stressed" because of the lack of resources.
He said he's been advocating for a "team approach" to help deal with these challenges, which includes working with nurse practitioners.
"I've been hearing consistently that there's a crisis in family medicine," he said. "There's a variety of innovative ways we can address it. It requires investment by government. Ultimately, we want our patients to be able to get health-care ideally in the communities they live."
The news seems to be flying at us faster all the time. From COVID-19 updates to politics and crime and everything in between, it can be hard to keep up. With that in mind, the Regina Leader-Post has created an Afternoon Headlines newsletter that can be delivered daily to your inbox to help make sure you are up to date with the most vital news of the day. Click here to subscribe.