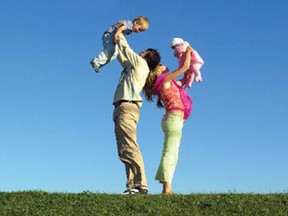 Reviews and recommendations are unbiased and products are independently selected. Postmedia may earn an affiliate commission from purchases made through links on this page.
Article content
The transition into the school year is never an easy one for kids or parents. Organizing schedules and figuring out who, what, where, and when is a full-time job. Then, add on the complexity of two households, two careers, perhaps blended families and — wow — that is a lot for any parent. And the kids feel that stress, too.
Article content
As someone who's lived that life, as well as helped 5,200 Canadian families transition from navigating a divorce to new beginnings, I can offer up sage parenting advice for raising confident, well-adapted children. The list of what not to do and what to do are equally crucial, as little ears absorb every word and action their parents make. Here are 10 quick and easy tips to help keep your life manageable, your kids happy and avoid the chaos that so often feels just around the corner.
Article content
Make a detailed schedule and communication plan.

Fail to plan, plan to fail. It is, perhaps, counterintuitive but having a clear plan regarding drop-offs, parenting schedules, communication methods, and finances gives you more freedom. You have confidence knowing that when it comes to your kids, the T's are crossed and the I's are dotted, so you too can focus on other things in your life.

Avoid giving the kids their overnight bags to take to school

. This is awkward for kids and even embarrassing. Other than on rare occasions, the only thing they should be transporting is themselves, their backpacks and, perhaps, their sports equipment for after school.

Ensure both parents are included on all correspondence with the school.

This way, each parent is responsible for getting the information and it does not fall on the shoulders of one parent or, worse, the children. It is your responsibility to get the data, not the other parent's responsibility to give it to you.

Never ever badmouth the other parent.

It can be frustrating when the other parent does not show up on time or, perhaps, sends the children to school with unprepared homework or without your standard of hygiene. Regardless, when you badmouth your child's parent, you tell them that half of them is not OK. It is as simple as that. So, save the complaining for your counselling sessions or close friends and family who are there to listen and offer you support.

Do not sweat the small stuff, and don't let small matters escalate into big problems.

 Molehills are not mountains, so remember to let it go. In the end, the only thing that matters is your child. Your children need and deserve love and attention from each parent. That is the foundation for building their self-esteem and happiness.

Encourage extended family involvement even if you do not like them

. Being a single parent is hard work and can be draining. Each parent needs all the support they can get.

Let go of what goes on at the other parent's house

. Unless the children are in danger, then everything else is small stuff (see tip 5). This extends to bathing, eating, screen time, bedtimes and homework. You do not have control, so do not waste your valuable time trying to take control.

Lay out finances early in the school year – who will pay for what and what activities will the children will do.

Get together with the other parent to discuss your child's extracurriculars and anything else where expenses may come up including lessons, trips, and extraordinary events. Both parents need to be on the same page, so take any heated discussions to a coffee shop. The children need to know in advance that there is a plan for the school year so they can focus on good grades, their lessons and having fun.

Children thrive with routine and

fail in chaos. Put the school year rotation schedule on the fridge or a kitchen corkboard for everyone to see. This will reduce stress and give children a sense of control and routine.

Be kind always and apologize when you are not.

Regardless of what happens in your day-to-day, back-to-school routine, there is no better parenting lesson than showing your children that kindness is the foundation for a happy life.
Karen Stewart is founder of Fairway Divorce Solutions and author of several book including, Divorcing?, Divorce the Fair Way, Divorce For Men: A guide to creating a great life after divorce, and Divorce For Women: A guide to creating a great life after divorce.