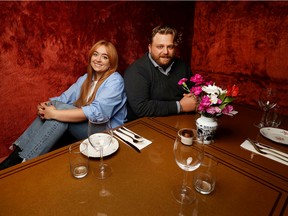 Reviews and recommendations are unbiased and products are independently selected. Postmedia may earn an affiliate commission from purchases made through links on this page.
Article content
Retro Gusto
122 Preston St., 613-234-5747, retrogustoeats.com
Open: Wednesday to Sunday 5 to 11 p.m., closed Monday, Tuesday
Prices: pizzas $21 to $27
Access: several steps to front door
Article content
I'm old enough to remember pizza places in the '70s. I don't recall them being nearly as hip as Retro Gusto.
Article content
Opened a month ago at the intersection of Little Italy and Chinatown, this pizzeria-meets-dining lounge lives up to the first part of its name with its decades-ago ambience. It's as if a nostalgia bomb went off inside. Retro Gusto is the Silk Sonic of pizza.
Wood walls evoke rec room chic, and inside them cool and kitsch rub shoulders. There are framed pages from vintage Italian magazines on the walls, groovy 50-year-old fonts on the tabletops, heirloom dishes and cutlery on the tables, a burgundy faux fur banquette in the back, neon signs touting pizza and cocktails, an orange-tinted window separating the kitchen from the 40-seat dining room and even a needlepoint portrait of Jesus beside the wee but attractive bar.
Article content
The only remnant from the address's previous and long-time tenant, the Chinese-Canadian restaurant May's Garden that closed during the pandemic, are Retro Gusto's well-worn but classic bentwood fan back open arm chairs.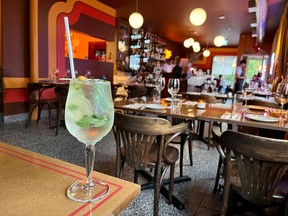 In all, Retro Gusto lovingly pays tribute to a time that its owners, the young Agostini siblings, Cesare and Nina, who also own Ottawa's two Farinella pizzerias, didn't live through.
I like Retro Gusto. A lot. But most of all, that's because of its culinary practices, which give heft to the last part of its name.
The first Farinella, which opened in Rochester Street in 2019, made its name with metre-long, oblong, Roman-style pizzas like the ones that Cesare Agostini made in Rome before returning to Ottawa, his home town.
Article content
Retro Gusto also nods deeply to Roman-style pizza authenticity, with a declaration on its menu that will mean more to chefs and pizza nerds than to people craving cheese and tomato sauce on bread.
"Our pizza dough contains a special blend of Quebec soft wheat flour, Italian semolina rimacinata and whole organic spelt from Almanac Grain with a minimum 20-hour room temperature proof," the menu says. "We exclusively use Italian non-GMO tomatoes from Casa Vinicio, hand-cut fior di latte mozzarella and all pizzas are finished with high quality olive oil that is on a continuous rotation."
Retro Gusto's menu is a taut one-pager with a centrepiece of a half-dozen round, personal-sized pizzas — three red (tomato-based) and three white. I've sampled five of the six on the current menu and found them uniformly well-made and deeply enjoyable. 
Article content
Cesare Agostini said that in Italy, his pizzas would be served at dinner only, brought uncut to the table, and eaten with knives and forks. He concedes that Retro Gusto bends to North American proclivities and tastes by cutting its pizzas and even offering squeeze bottles of house-made chili oil and hot honey.
Retro Gusto's pizzas all shared thin and crisped but pliant crusts, with toppings spread almost to their edges, which have no elevated rims. The crusts here hit the sweet spot between usually saggy and sometimes soupy Neapolitan pizzas and more chewier North American thin crusts.
Topping-wise, tops for me were the three white pizzas — were there even white pizzas in Ottawa in the '70s? That said, I'd never turn down slices of the tomato-sauced sweet salami or prosciutto pizzas.
Article content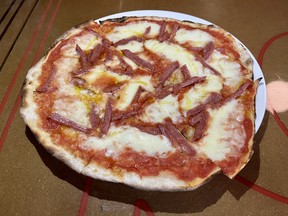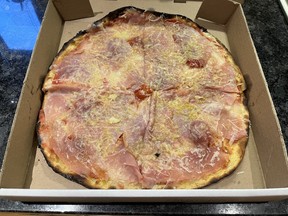 I'm a bigger fan of the butter-poached mushroom pizza's earthy indulgence, as well as the savoury complexity of the rosemary-tinged potato pizza dotted with blobs of sausage from neighbour business Luciano Foods Ltd. The pizza featuring thinly slices of roasted and marinated zucchini was a looker, and its house-made pesto provided a nice flavour pop.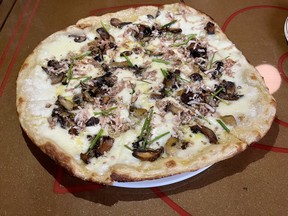 Mushroom pizza. Peter Hum/Postmedia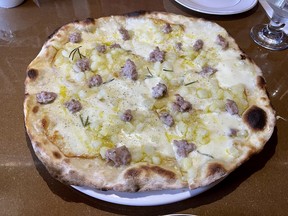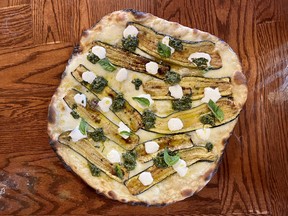 If you don't want to rush straight to pizza-eating, there are simple but appealing starters here too. A plate of prosciutto with buffalo mozzarella and grilled marinated artichokes cost as much as a pizza but was a satisfying way to jump-start our appetites. I've also had a serving of crumbled sausage and mild, creamy stracchino cheese on a slab of Farinella's bread, and a "doppio," meaning a mini-pizza sandwich of sorts, which in my case had mortadella as its filling. Both bread-y treats would have filled smaller appetites had a pizza been too much.
Article content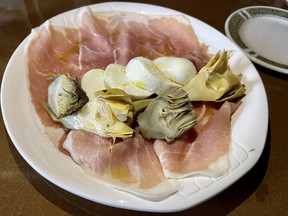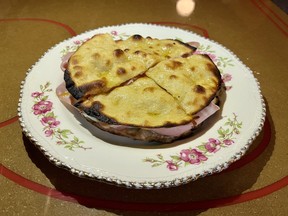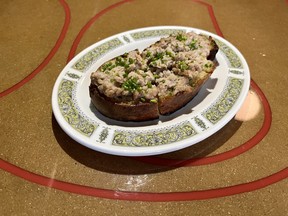 Agostini said he's been asked when Retro Gusto will serve pasta dishes or pieces of meat. He responded by pointing to his three-person, understaffed kitchen. The short menu reflects that harsh reality, he said.
The restaurant also serves just one dessert, a refined peach crostata. Asked whether Farinella's renowned gelato might turn up at Retro Gusto, Agostini said he would rather do something a little fancier in-house, such as the frozen dessert called semifreddo. "Let's worry about it next year," he said.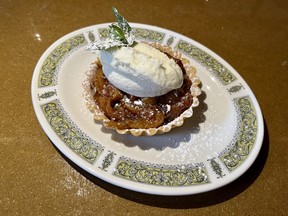 Peach crostata. Peter Hum/Postmedia
The cocktail menu fills another page, offering Italian gifts to classic cocktail-lovers including martinis, negronis and spritzes. An Ugo (gin, Prosecco, elderflower liqueur, soda, lemon) was light and refreshing. Again, Agostini called Retro Gusto a work in progress, saying that he hopes to diversify his beverage choices down the road.
One thing that may never change here: You can't reach the eatery via UberEats, DoorDash and the like, and maybe you never will, Agostini said. Retro Gusto does make pizzas to go, but in a very '70s fashion, for customers who call in or visit.
These more personal, old-school options really do suit the vibe here. As with all of the aspects that Retro Gusto has quicken gotten right, I'd say, as the '70s hit goes, don't go changin' to try and please me.