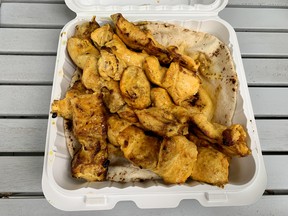 Reviews and recommendations are unbiased and products are independently selected. Postmedia may earn an affiliate commission from purchases made through links on this page.
Article content
Saffron Kabab
2949 Carling Ave. and 1729 Bank St., Unit 105, saffronkabab.ca
Open: Monday to Saturday, 11:30 a.m. to 9 p.m., Sunday 11:30 a.m. to 8 p.m.
Prices: kebab dinners for one $16.99 to $30.99
Article content
Last week, when we suddenly had a few more mouths to feed, I picked up my phone and addressed the situation with three simple words: "Saffron Mix 10."
Less than an hour later, thanks to the order I placed with the recently opened Saffron Kabab on Carling Avenue west of Pinecrest Road, we were digging in to a miniature but meaty feast ($91.99 for the "Saffron Mix 10").
One large tray held 10 kebabs as promised (four ground beef kebabs, three chicken breast kebabs and three "filet mignon" kebabs), plus some supplementary cubes of meat in lieu of some chicken drumsticks that were supposed to have been part of the meal. Another tray held enough fluffy long-grain rice to last for days. Smaller containers held lentil soup that we thought could have used a little more punch, a fresh salad, hummus, garlic sauce and tomatoes cooked until their skins were deeply charred.
Article content
For our casual, impromptu al fresco dinner, Saffron Kabab's halal-butchered kebabs did the trick, although if we had to rank them, we would have given the saffron-tinged chicken chunks top marks, followed by the beef chunks and then the more dry ground beef kebabs. All were well-seasoned and all upheld the high standard maintained by the half-dozen or so quite similar Iranian restaurants from Orléans to Kanata I've tried since 2015.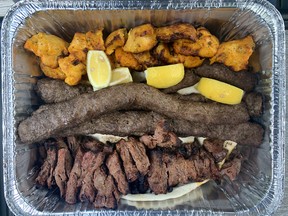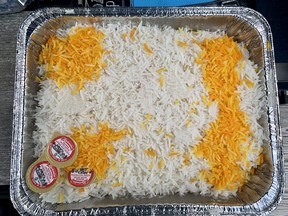 A serving of rice that comes with the Saffron Mix 10.
In fact, Saffron Kabab has two locations. Its first, opened a few years ago, is on the stretch of Bank Street south of Heron Road that's dotted with quite a few Middle Eastern food businesses. The Carling Avenue spin-off opened this spring, moving in where a Shawarma Palace had been.
Article content
We made a second order this week from Saffron Kabab, in part because we had to have more chicken kababs ($46.99 for six skewers), but also because we wanted to try some other items on the menu.
We encountered a few frustrations with food being unavailable. We were told that to order the ash reshteh, a Persian soup thick with beans and herbs that's like a cousin of minestrone, we would have to call the Bank Street location. There were also no dark-meat chicken kebabs available.
Still, what we did receive made us feel well-provided for.
Lamb chops ($21.99 for four), while dry and overcooked, were nonetheless tender and very tasty.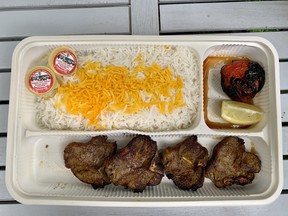 We also tried two of what Saffron Kabab calls "pita pies." I knew these pies as Turkish pide flatbreads from the enjoyable examples made at Pita Bell Kabab, somewhat further east on Carling Avenue. Saffron Kabab's flatbreads were richly flaky yet light and un-oily, belying the comparison sometimes made between pide and pizza. We sampled flatbreads topped with sausage and cheese and with morsels of saffron-tinged chicken. Both were fine.
Article content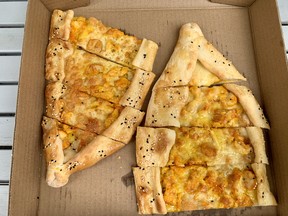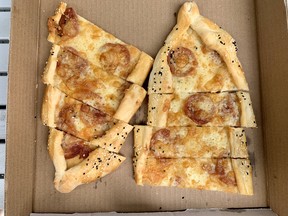 We also had some of Saffron Kabab's desserts. Slightly molten brilliantly yellow ice cream ($5.49) tempered its sweetness with rose water, saffron and pistachios. Kunafa, a traditional Middle Eastern dessert of shredded phyllo, sugar syrup and cheese ($8.99 for a medium), seemed a little too soggy.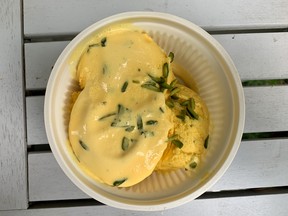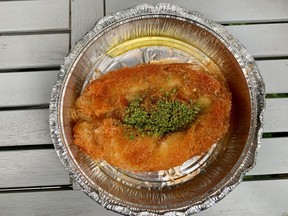 A few other Persian restaurants in Ottawa — I'm thinking of Persis Grill on Tenth Line Road, Parsital in Stittsville and the modern Persian-inspired Ayla's Social Kitchen on Preston Street  — boast wider menus than Saffron Kabab. But there's nothing wrong with focusing on essentials, especially when commendable kebabs and pita pies result.