Mackenzie, 36, remains in custody pending trial on assault and weapons charges stemming from an alleged incident near Viscount.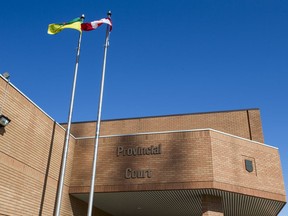 Article content
The leader of a Canadian far-right group is set to challenge a judge's decision to keep him in custody while awaiting trial.
Article content
Jeremy Mackenzie, 36, faces assault and weapons charges in connection with an incident near Viscount, Sask. in November 2021.
Article content
He was denied bail on Oct. 7 by a Saskatoon provincial court judge. The reasons for that decision are protected by a court-ordered publication ban, which is a standard measure in most bail proceedings meant to protect an accused's right to a fair trial.
Mackenzie's previous defence lawyer was granted leave to withdraw on Oct. 13, after telling court he'd been fired.
At Thursday's hearing, Toronto-based defence lawyer Sherif Foda indicated he will represent Mackenzie, and that his client will seek a review of the Oct. 7 bail decision. Mackenzie is due back in court Nov. 10.
Court previously heard there is an ongoing investigation into how audio recordings from Mackenzie's bail hearing found their way online in violation of the publication ban — an offence punishable by up to two years in jail and a $5,000 fine.
Article content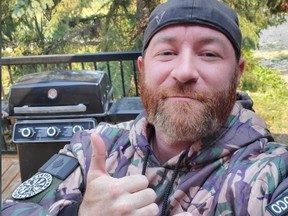 Mackenzie is the self-proclaimed leader of Diagolon, a group described in a 2022 House of Commons report as a violent extremist organization. Its name refers to a fictional country comprised of provinces and states without COVID-19 mandates, forming a diagonal line across North America.
He is also charged with harassment and intimidation in connection with an anti-mask protest outside the home of Nova Scotia's chief medical health officer in March, and faces 13 firearm-related charges in Nova Scotia after a police search in January.
RCMP have said they are also reviewing an allegation that Mackenzie made rape threats against Conservative Leader Pierre Poilievre's wife during a livestream video in September.
Article content
There has also been suggestion of a link between Diagolon and the case of four men charged with conspiracy to commit murder after a February RCMP raid against an anti-mandate blockade of a Canada-U.S. border crossing at Coutts, Alta.
Mounties reported seizing items including 13 long guns, handguns, a machete, a large quantity of ammunition and body armour. A tactical vests seized at the scene had a Diagolon patch on it — a white diagonal line across a black rectangle. The four suspects are scheduled for trial in 2023.
— with Canadian Press files
Diagolon leader Jeremy Mackenzie denied bail on Sask. assault, weapons charges

Diagolon leader switches lawyers; judge warns about breached court order
The news seems to be flying at us faster all the time. From COVID-19 updates to politics and crime and everything in between, it can be hard to keep up. With that in mind, the Saskatoon StarPhoenix has created an Afternoon Headlines newsletter that can be delivered daily to your inbox to help make sure you are up to date with the most vital news of the day. Click here to subscribe.