Witness X testified that he wanted to finally come out with the truth about what happened and who killed Dillon Brown.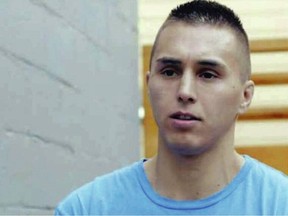 Article content
Police gave a former full-patch member of the Devil's Army a choice — he could either be a suspect or a witness in their investigation into the murder of mixed martial arts fighter Dillon Brown. Defence lawyer Brent Anderson made that suggestion Wednesday at Richard Alexander's trial for the first-degree murder of Brown on March 11, 2016.
Article content
The Crown has alleged that Alexander, former president of the outlaw motorcycle club, shot Brown in the head in the basement of the Devil's Army clubhouse and placed Brown's body in the trunk of Brown's car.
Article content
Admissions of fact, read into the court record, revealed that a surveillance camera in Campbell River captured images of Alexander driving Brown's Honda at 2:12 p.m. on the day of the killing. An hour later, Alexander abandoned Brown's Honda near the Cable Bridge in Sayward.
Under heavy security, the former full-patch biker, who can only be identified as X, has been on the stand for five days. He has testified that Alexander killed Brown and he helped clean up the crime scene.
In June 2017, X learned during a police interview that investigators had "pinged" or located his wife's cellphone at the time of the murder. His wife, who can only be identified as Y, had already told police she always had her cellphone with her.
Article content
"That leads us to believe that one or both of you could potentially either be directly implicated in the murder or have witnessed something about the murder," Const. Annika Faa told X, court heard.
If neither of them were responsible for Brown's murder, then there's a strong possibility that either one of them has important information and were witnesses, said Faa.
X was told he was still a suspect in Brown's murder.
"I want to believe you that you didn't actually pull the trigger and got pulled into something way bigger than you ever anticipated or wanted," said Faa. "I can tell the weight of the world is on your shoulders and it has been since that day."
X agreed.
Faa said she knew X wanted to help their investigation and do the right thing.
Article content
"I can see that but you're still in the suspect category," she continued. "So my job is to learn the truth. I want to believe you, that you have no responsibility in pulling the trigger."
Faa told X he needed to give her a statement that's admissible in court for him to no longer be a suspect.
X agreed with Anderson, the defence lawyer, that when he first considered cooperating with police, he thought he could spent 20 years in prison if he was convicted of murder.
But X testified that he wanted to finally come out with the truth about what happened and who killed Dillon Brown.
"I felt if I didn't clear up my involvement with that I could have been mistaken as the person who pulled the trigger and killed Dillon Brown," said X.
X believed that if he didn't give a statement to police he'd be charged with homicide, said Anderson.
Article content
"Yes, because I had information on who committed the homicide, so if I didn't tell them who committed the homicide they could have thought I committed the homicide," he replied.
X admitted when he first decided to co-operate with police he was hoping he wouldn't be charged and wouldn't go to jail. "Well that would be a hope. That would be natural," he told the defence lawyer.
X gave his first detailed statement to police on July 3, 2017. In August 2017, he entered into a limited immunity agreement with the Crown.
Since then, the police have paid more than $88,000 for his legal fees, Anderson noted. And the Witness Protection Program has paid more than $205,000 to cover his living expenses.
---
Support our journalism: Our in-depth journalism is possible thanks to the support of our subscribers. For just $3.50 per week, you can get unlimited, ad-lite access to The Vancouver Sun, The Province, National Post and 13 other Canadian news sites. Support us by subscribing today: The Vancouver Sun | The Province.