In the big picture, there is definitely some intrigue in trying to figure out whether he will be part of the roster after final decisions are made.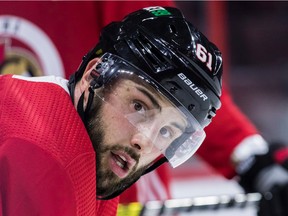 Article content
Senators 3, Canadiens 2 (OT)
Article content
BOUCTOUCHE, N.B. — As a cagey veteran of 951 National Hockey League regular-season and 118 playoff games with 10 teams, Derick Brassard knows better than to read too much into a single pre-season game.
Article content
Just the same, there he was making his mark in the Ottawa Senators' final pre-season tilt against the Montreal Canadiens on Saturday night, amid the Kraft Hockeyville setting in Bouctouche, N.B. Still on a professional tryout contract and doing whatever he can to impress Senators brass enough to earn one more deal, he's aiming to extend his career just a little bit longer.
Article content
"You want to play your game, play the same way I've been playing the entire camp," Brassard said before the puck dropped at the 1,100-seat J.K. Irving Centre. "Every day it was better."
Article content
Brassard helped his cause, taking advantage of power-play time to score his first goal of the pre-season and then assisting on Drake Batherson's power-play goal in overtime in the Senators' 3-2 victory. As the game wore on, he also looked more and more comfortable while playing on an even-strength line with  Batherson and Shane Pinto.
Scott Sabourin also scored for the Senators, while Cole Caufield and Kaiden Guhle scored for the Canadiens.
While Brassard is in a battle with Dylan Gambrell and Mark Kastelic for a spot at bottom end of the roster — general manager Pierre Dorion will make the ultimate decisions before the team returns to the ice Monday morning at Canadian Tire Centre — it was hard to read too much into the game result because of the make-up of the Senators' lineup.
Article content
Wary of final injuries, the Senators opted not to dress Brady Tkachuk, Josh Norris, Tim Stutzle, Claude Giroux, Alex DeBrincat, Thomas Chabot, Artem Zub and Tyler Motte. Mathieu Joseph was also a late scratch. To fill out the roster, the Senators called up Jake Lucchini and Rourke Chartier from Belleville of the American Hockey League.
No. 1 goaltender Anton Forsberg was also given the night off, while Magnus Hellberg, claimed off waivers earlier in the week due to Cam Talbot's rib injury, made his Senators debut. He had no chance on Caufield's goal, a shot that deflected off Nikita Zaitsev's stick and under the crossbar, but he allowed Guhle's shot, late in the second period, to slip between his body and arm. In Hellberg's defence, the lighting inside the Irving Centre is not at NHL standards.
Article content
In the big picture of the Senators final puzzle, there is definitely some intrigue in trying to figure out whether Brassard will be part of it all.
He has done his his best to showcase his versatility throughout camp, playing in a more of a depth role until Saturday. He was also battling through a stomach virus that has passed through the team for the past few days. He didn't play in Thursday's 4-3 win over the Canadiens in Gander, N.L., and said he didn't have all his energy back just yet.
Before the game, Senators head coach D.J. Smith said Brassard had improved since Day 1 and the main thing the organization was keeping an eye on was "to see how his pace continues to pick up," and he was originally expected to play on a more defensive-oriented trio with journeyman Jayce Hawryluk and prospect Zack Ostapchuk.
Article content
Interestingly, Gambrell also had his moments Saturday. A determined effort at the Canadiens' blue-line allowed him to break towards the net on a play that set up Sabourin for a goal to give the Senators a 2-1 lead. Canadiens goaltender Jake Allen, a fan favourite here because of his roots in Fredericton, would no doubt like to have another look at Sabourin's shot.
With time ticking away late in the third period, Smith shortened his bench and at one point employed a line of Brassard, Gambrell and Batherson.
Among the other sub-plots Saturday was the growing animosity between the teams, who met for the fourth consecutive time in the pre-season. Smith wasn't pleased with what happened as time wound down in Thursday's game in Gander, a 4-3 Senators victory.
Article content
The always feisty Parker Kelly, playing on a line with Kastelic and Austin Watson, was in the middle of it all on Saturday, drawing extra attention between the whistles. Sabourin, who is likely ticketed to Belleville to help protect the next wave of Senators prospects, was also used on the power play.
"I felt like this was my best game of the pre-season. I felt like I was back to myself," Kelly said. "The way I kind of like to go at it is, on the first shift I either get rocked or rock a guy. It was nice tonight, (the hitting), early and often."
With Chabot and Zub both sitting out, rookie defenceman Jake Sanderson and Erik Brannstrom — the latter playing on the right side — received first-unit minutes, holding their own against the Canadiens for the most part. Sanderson also looked slick while stepping up to play quarterback on the first unit of the power play, a spot usually reserved for Chabot.
"I think I got better as camp went on," Sanderson said. "It's just about rising to the occasion. I think everybody on the team did that. I thought (Brannstrom) and I did a great job. We talked before the game about building that chemistry and I thought we did that."
Twitter.com/Citizenkwarren