Bases at Moose Jaw and Dundurn in Sask., among those getting greener.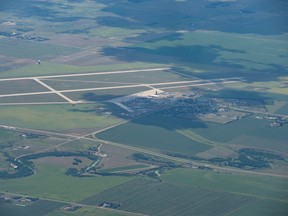 Article content
Saskatchewan's military housing sites will be looking far greener in the future as part of a plan by the Department of National Defence to plant nearly 14,500 trees in such locations.
Article content
Beginning this year, roughly 8,000 trees will take root at 15 Wing Moose Jaw, a Canadian Armed Forces base just south of that city, at CFB Dundurn, about 50 km south of Saskatoon, and at Wainwright, Alta., National Defence spokesperson Andrew McKelvey told Canada's National Observer in an emailed statement. It's part of the federal government's two billion trees program, over the next five years.
Participation in the program allows the department to contribute to the government's overarching strategy to transition to net-zero carbon and build climate-resilient operations, McKelvey wrote.
As one of the federal departments that owns and manages the most land — over 2.1 million hectares — 14,450 trees over five years is just a drop in the bucket.
Article content
However, because these trees will be planted at military housing sites, occupants should benefit from more shade, less noise pollution and get to enjoy more beautiful surroundings. Increased tree cover will also help residents foster "a sense of connection with nature," the statement reads.
Out on the Prairies, trees will also provide a windbreak for housing units and anchor soil in place to reduce erosion and rainwater run-off.
Natural Resources Canada and the Canadian Forces Housing Agency (CFHA) signed a memorandum of understanding in May for the tree-planting partnership.
The department will develop and submit tree-planting proposals — including the number and location of trees, costs and more — on an annual basis to Natural Resources Canada for approval. Approved proposals will receive funding for half of the tree-planting costs, including tree supply, transportation, equipment and labour. The rest is covered by DND.
Article content
Planting two billion trees by 2030 to help get to net-zero greenhouse gas emissions by 2050 was the Liberals' major campaign promise in 2019. To date, approximately 29 million trees are in the ground thanks to the federal program, which has been criticized for its slow start.
Organizations appear eager to start planting, but the high number of applications and other "operational considerations" have resulted in some delays processing applications, a memo obtained by Canada's National Observer through a federal access-to-information request revealed last month.
According to Natural Resources Canada's latest update, the program is on track and a strategy is in place to plant 60 million trees next year. This year, over 200 tree-planting applications were submitted. This includes multi-year proposals that would see approximately 425 million trees in the ground and help create "predictable, stable, long-term demand for nurseries," the update said.
Article content
• Natasha Bulowski is a Local Journalism Initiative reporter for Canada's National Observer
Victoria Park loses tree to Dutch elm disease, six confirmed across Regina

Presence of Dutch elm disease in Sask. up 25 per cent in 2021
The news seems to be flying at us faster all the time. From COVID-19 updates to politics and crime and everything in between, it can be hard to keep up. With that in mind, the Regina Leader-Post has created an Afternoon Headlines newsletter that can be delivered daily to your inbox to help make sure you are up to date with the most vital news of the day. Click here to subscribe.