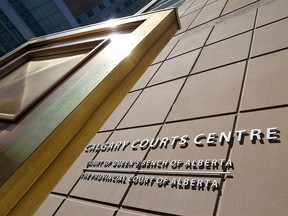 Article content
Alberta's defence lawyers say they'll refuse to take new legal aid clients as of Monday as they escalate their push for more resources from the provincial government.
Article content
Lawyers rallied Friday morning outside courts centres in Calgary and Edmonton to press home their case in what one of their spokesmen said is a last resort.
Article content
"The government needs to see the full impact on the criminal justice system in Alberta will be like without defence lawyers," said Ian Savage, president of the Criminal Defence Lawyers Association.
"We have professional obligations of course to our existing clients but we'll be declining to accept new clients."
He said the move that has the backing of four lawyers' groups will hobble an already backlogged system.
"Thousands of cases will be affected…it's entirely the government's doing, they've known this for years," said Savage.
It's the first time such job action will have been taken in Alberta, though similar tactics have been employed in Ontario, Manitoba and B.C. with generally positive outcomes for legal aid lawyers, he said.
Article content
In the last three years, he said, the province has stripped $80 million from the legal aid, rendering it "the underfunded child of the justice system."
Defence lawyers are pushing for $40 million to $50 million infusion into the legal aid system to bring compensation for legal aid lawyers in line with other provinces and open up the service to more Albertans.
Every dollar spent on legal aid, said Savage, saves $5 to $9 on legal, health care and social costs and that committing more funding will help the most financially vulnerable clients.
Justice Minister Tyler Shandro should meet immediately with the lawyers' groups to resolve concerns that are indicative of a failure by the UCP government, said NDP Justice Critic Irfan Sabir.
Article content
"All Albertans who have business before the courts, including victims and their families, will suffer as a result of the delays and dismissals that will follow," said Sabir.
During the NDP's 2015-2019 reign, defence lawyers pressed that government for more funding to fix what it then called "a broken system."
But Sabir said the province has failed to live up to an agreement forged by his government and defence lawyers in 2018.
In a statement Friday, Shandro said the province is well aware of the situation but can't commit more resources to the system before the 2023 budget.
"Increases to the legal aid tariff, which is the rate that criminal defence lawyers are paid for legal work, will be considered as part of the 2023 budget," he said.
Article content
"Legal Aid Alberta and Justice have begun this work and if there is evidence to support increasing the rate paid to criminal defence lawyers, it will be included in the 2023 budget submission."
The province said the legal aid budget was "changed" due to a decrease in demand during the pandemic due to court closures.
"The Governance Agreement is based on a sustainable funding model and government has met the commitments of the Agreement," Shandro's ministry said in a statement.
'Enough is enough': Alberta defence lawyers escalate job action in legal aid battle

Crown comes to defence of legal aid lawyers taking job action for improved funding

Some Alberta defence lawyers say they will no longer take Legal Aid cases over controversial contract

Defence lawyer associations call for better funding for Legal Aid
"Legal Aid Alberta clients have not been impacted by any fluctuations in funding under the Governance Agreement."
Shandro said LAA Alberta has publicly stated those lawyers have all the resources required to ensure uninterrupted access to the justice system.
Savage said they've heard similar words from the UCP government before "and unfortunately can't trust (Shandro's) word."
Twitter: @BillKaufmannjrn