Property crime is on the rise in a return to "pre-pandemic" levels, according to Regina police chief Evan Bray.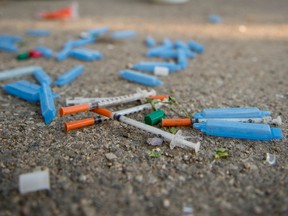 Article content
As a running appendix to an ongoing tragedy, police statistics show that, despite "aggressive" drug enforcement, the city is still experiencing an overdose crisis.
Article content
And to move the needle in a meaningful way, the Regina Police Service (RPS) chief says decriminalization of simple possession will be required, though that will only be one step. Police will also need partners to assist officers in offering drug users supports instead of laying a charge.
Article content
"It's not enough to say we're going to decriminalize it, because that doesn't do anything to get the person help," Evan Bray told reporters following a Regina Board of Police Commissioners meeting Tuesday.
"Sadly, we're still seeing 129 overdoses in the month of August, just under 10 per cent of those resulted in death," he told commissioners earlier.
In 2021, Regina recorded a record 160 apparent overdose deaths within the city. By the end of August that year, 83 such deaths had been recorded. By the end of August of this year, 84 apparent overdose deaths were on the books, putting the city on pace for a repeat of the tragic record.
Article content
The chief says decriminalization is being discussed, and to an extent is already being practised, with police "seldom" laying possession charges. Year-to-date statistics for the end of August show offences under the Controlled Drugs and Substances Act are down by 60.7 per cent.
But police have maintained enforcement pressure on targets associated with more serious drug crimes, like trafficking, and especially in situations where large amounts of drugs are being moved, according to Bray.
Where large quantities of drugs and money are involved, the force has used the Special Weapons and Tactics (SWAT) unit, the chief said, noting that police are "often" performing busts that result in seizures ranging from $200,000 to $400,000.
Article content
'I just want the stigma to end': Regina family shares their story of overdose and loss

In photos: Regina recognizes International Overdose Awareness Day
"It's not just fentanyl and meth, but we're seizing cocaine and other illicit drugs on a regular basis," he added.
He went on to say that major drug busts are seldom isolated to just drugs, and frequently require the work of the Street Gang Unit and a unit which specializes in firearms.
Drugs weren't the only area of crime touched on during the meeting, as commissioners asked questions of RPS leadership about property crime.
While crimes against the person, including homicide, attempt murder and sexual assault, are trending down with a combined year-to-date decrease of 8.9 per cent, property crime has seen a year-to-date increase of 8.3 per cent.
Article content
"I think what we're seeing is we're returning to what I would call pre-pandemic numbers," Bray told commissioners, noting that the increase to property crime has largely to do with an increased number of minor thefts.
These can be from homes, yards, vehicles or businesses, he said.
"We spend a lot of time trying to find ways to educate people on how they can prevent themselves from being a target of those petty crimes and ways to protect your property."
Asked a question about break and enters from businesses (up 13.5 per cent, year-to-date), Deputy Chief Lorilee Davies said sometimes one or two people will go on a "spree," and police work hard to locate and arrest them, but she said educating business owners on how to improve their security practices has also been part of police work.
Article content
Bray gave commissioners the example of a past rash of vehicles being run into the fronts of businesses, including liquor stores.
"Now, often you'll see these cement barricades out in front to prevent those types of things from happening," he said.
The news seems to be flying at us faster all the time. From COVID-19 updates to politics and crime and everything in between, it can be hard to keep up. With that in mind, the Regina Leader-Post has created an Afternoon Headlines newsletter that can be delivered daily to your inbox to help make sure you are up to date with the most vital news of the day. Click here to subscribe.