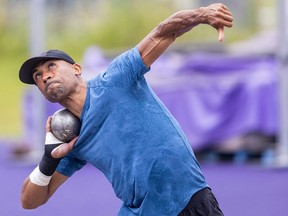 Article content
Canadian runners, jumpers and throwers produced just 18 medals during the country's first 15 appearances at the World Athletics Championships, which are held biannually.
Article content
Through the last four worlds, Canadian athletes hauled away another 18 medals.
"It's been really cool to see," said decathlete Damian Warner, the reigning Olympic champ who should be favoured to add his first world title as the 2022 championships get underway in Eugene, Ore., this weekend. "When I first got started, there wasn't really anyone finishing on the podium. I know it was something a lot of the athletes talked about and wanted to achieve, but it wasn't happening. And then I remember at the Olympics in 2012, (high jumper) Derek Drouin won his medal and after that, I think it showed a lot of us younger people at the time it is possible to win medals at these competitions.
Article content
"We changed our mindset from being happy to just be at these competitions to wanting to go to these competitions and show the world what we're capable of. Since then it's just been crazy. We've been going to competitions and winning multiple medals every time and people expect that of us and we're delivering. And there are young athletes coming up who will join that group in the near future."
Article content
Since 2012 it has indeed been something of a gold, silver and bronze rush at world-class events. Canadians won five medals at the most recent worlds, held in 2019 in Doha, Qatar. A stomach virus that swept through the Canadian team at London 2017 wiped out any podium prospects, but the eight-medal haul from 2015 stands out as Canada's single largest at a worlds. The country produced another five medals in 2013.
There is a decent chance the bar will be raised at this year's event, which starts on Friday at Hayward Field. A total of 59 athletes — 34 women and 25 men — will represent the country, and Athletics Canada's head coach Glenroy Gilbert called it "our strongest team."
Warner, of course, is among the strongest Canadians. His winning score of 8,797 points at the prestigious Gotzis meet in late May makes him the second-ranked contender this season, behind only American Garrett Scantling, who put up 8,867 points in early May.
Article content
"I feel pretty confident with where I am as an athlete," said Warner. "Over the years I have learned who I am, I've started to understand the events a little bit more so I'm able to replicate certain performances when I need to. But I'm also enjoying competing, I'm enjoying being a role model for my community, for my son as well. I think it's really important to lead by example and show that if you have a goal, to chase it. That's something I try to do because there is going to be a point in time when I have to turn to my son and tell him you can do anything you set your mind to and if there is something you want to achieve, you've got to work really hard for it and surround yourself with people who can help you do it."
Warner is but one of several podium hopes for Canada.
Article content
Shot putter Sarah Mitton is on a serious heater, having raised the national record to 20.33 metres, to stand as the world's third best performer this season. She trails American Chase Ealey (20.51m) and China's Song Jiayuan (20.38m), and is out for redemption after finishing a distant 24th at Doha 2019. With a national record of 77.67m, hammer thrower Camryn Rogers is also in the medal mix, as only three women have tossed it further this season.
"I love watching Camryn throw," Mitton said recently. "She is someone that, despite her being younger than me, I look up to her a lot. She's a fierce competitor. Even last year at the Olympics, being her first Games, she came out and just crushed it. Every week I see her smashing records and throwing further and I just want to be like that too. It's easy to play off of that."
Article content
Pole vaulter Alysha Newman is making a gritty comeback from concussion-related health issues, having jumped 4.70m for a share of sixth place. American Sandi Morris has the world-leading jump of 4.82m.
The sprint trio of Andre De Grasse, Aaron Brown and Jerome Blake give Canada legitimate podium hopes in the men's 100m and 200m, as well as the 4x100m relay. With a top time of 38.31 seconds, Canada's team ranks third in the world this year behind Germany and the United States.
Marco Arop is the world's third-ranked 800-metre runner this season after blazing to the line in 1:43.61 at a meet in Edmonton earlier this month. Mohammed Ahmed is the second-ranked threat in the 10,000m and sixth over 5,000m. High jumper Django Lovett has cleared 2.28m, putting him in the mix. And the women's 4x400m relay team has been sneaking up on the podium for years.