City hall is well-positioned to at least help revive and grow the city's nightlife, and the optimist in me tells me to give it a shot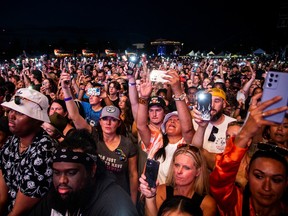 Article content
The notion of a "night mayor" is simply too easy to make fun of. For one, it sounds an awful lot like a horror movie: Night Mayor on Elgin Street.
Article content
The thought of putting a municipal bureaucrat in charge of nighttime entertainment (or any kind of entertainment, or anything actually fun) seems, on the face of it, a wholly antithetical way to pretend to support Ottawa's nightlife — and a move almost certain to torpedo any chances of success.
It's like putting your grandmother in charge of snacks. "Seriously? Raisins?"
Notably, it won't be up to the night mayor to come up with the actual fun ideas. That will remain the role of promoters, organizers, venue owners, artists and the like. The commissioner's job will be to act as the city's point-of-contact and liaison for these groups and be the go-between for residents.
But — fingers crossed, and with many of the fine details yet to iron out — this initially ridonculous-sounding idea, which received the green light from council on Wednesday, is actually a good one.
Article content
Even councillors who had taken some issue with the approval of the Nightlife Economy Action Plan, as it's officially known, lent at least lukewarm support for bringing in a nightlife commissioner.
"I don't think hiring another bureaucrat is the best way to do it," Rideau-Jock Coun. David Brown said. "I think private industry and business are best positioned to continue their advocacy efforts without having to create this role."
Brown, noting that he would nonetheless support the plan, said he felt it was incumbent on the industry to work with the city to create favourable conditions for growth.
"I think Ottawa is only big enough for one mayor," he said.
Kitchissippi Coun. Jeff Leiper, meanwhile, who supports the plan and its attendant creation of the position of a nightlife commissioner, is aware of the optics, jokingly referring to the role as Commissar of Fun.
Article content
But city hall is well-positioned to at least help revive and grow the city's nightlife, and the optimist in me tells me to give it a shot. They're doing it in other cities, which, while not a deciding factor, at least lends it credibility. And while the budget for the one-person office hasn't been determined yet, it's not expected to be all that great, so the bang-for-your-buck potential is real, while the downside risk is small.
In some ways, the plan can be seen as an extension of the city's five-year Music City Strategy that began in 2018, only on a much broader level, expanding from music to just about any form of entertainment, including, as one councillor said — at least hypothetically — on Wednesday, a bakery staging a play at three in the morning.
Article content
The nightlife commissioner will likely face a monumental task with countless moving parts. Think of all the considerations that could be at play, including issues surrounding noise, policing, transit, parking, zoning, bylaw and rights-of-way.
The nightlife commissioner, meanwhile, and thus also the public, will benefit from the city's already considerable communications channels, able to promote and inform residents of events.
Councillors on Wednesday raised numerous valid points. Bay Coun. Theresa Kavanagh, for example, spoke of the need to address youth and family engagement. Rideau-Vanier Coun. Laine Johnson raised the idea of 24-hour daycares.
These are all things that the city's nightlife commissioner will want to consider.
Article content
The City that Fun Forgot has grown a lot in recent decades, but the pandemic took a lot of that away, with entertainment venues, galleries, restaurants and other activities and places residents relied on folding their tents. These weren't simply amusements, although they were that. But they also supported Ottawans — musicians, dancers, servers, box-office employees and countless others.
A nightlife commissioner, as goofy as that title sounds, should go a long way to help bring all that back — and more.
City committee approves plan to bring in 'nightlife commissioner' to boost Ottawa's entertainment economy

Today's letters: Ottawa's nightlife could definitely use some help