"I honestly think (Dave) would be over the moon. This was his dream."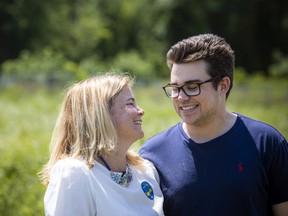 Article content
As he lay dying in September 2020, Dave Smith issued a challenge to his young friend, Hunter Knight.
Article content
The Ottawa restaurateur and philanthropist had come to Knight's aid when Knight, then 17, was battling alcohol and cocaine addiction. Now he wanted a favour in return. He asked Hunter to see through his dream of a new, modern home for the Dave Smith Youth Treatment Centre, one that would bring all its services under one roof.
On Wednesday, Knight and his mother, Cindy Manor, were on hand when ground was broken for a new building on a 25-acre site on Bradley Side Road.
"I think Dave would be super stoked," said Knight, now 24.
"My mom and I went through a pretty long wait time before I got in (for treatment) so just having to have more beds to service youths is good because time isn't really on your side when you're battling addiction."
Article content
The new centre will bring both male and female services together in one building for the first time. Currently, the males are housed in a run-down farmhouse in Carleton Place — "It was falling apart when I was there. I can't imagine what it's like now," Knight said — while services for girls and young women are offered in a house owned by The Royal next door on Bradley Side Road. The new building is to open in the fall of 2023 with 30 beds, a 25-per-cent increase. The $20-million centre is funded by the province and private donations.
"I honestly think (Dave) would be over the moon," Manor said. "This was his dream. It was something he asked Hunter to complete on his death bed. It was a big promise for my son and a big promise for me."
Article content
Smith was an Ottawa legend. He opened Nate's Deli on Rideau Street in 1959 and later added The Place Next Door, which was the city's go-to restaurant for visiting celebrities. Smith raised more than $150 million for charity over his lifetime. The youth treatment centre became his life's work and since opening in 1983 has treated more than 18,000 youth like Knight, who was one of the pallbearers at Smith's funeral.
Interim Ottawa police chief Steve Bell is chair of the DSYTC board and was on hand for Wednesday's ceremony.
"I think it goes beyond youth," Bell said. "Mental health and addictions are something that affect every sector of our society — every family, every socioeconomic group, every culture. The fact that we are building a centre that will focus on youth and help them in their recovery is so important to our community and the whole province because we bring in young people from everywhere in the province."
Wednesday also marked the launch of the centre's Village of Hope Fundraiser with a goal of $4 million in donations. You can get more information online at davesmithcentre.org.