Such a statute would threaten the very thing it seeks to protect.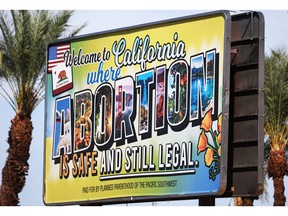 Article content
Last month, the U.S. Supreme Court struck down Roe v. Wade. Now it is constitutional for American states to restrict abortion in any way they choose, including banning it. Only new federal legislation allowing abortion can stop such state bans. But on May 11, shortly after the May 2 leak of a draft of the Court's reasons, Republicans in the U.S. Senate defeated a federal bill establishing a national standard for legal abortion in that country.
Article content
The ongoing turmoil south of the border has some Canadians asking whether our federal government should proceed with new legislation to confirm that abortion and women's reproductive choice are legal in Canada.
On May 4, in response to the leak of the decision, Prime Minister Justin Trudeau said in a scrum that "every woman in Canada has a right to a safe and legal abortion," and spoke about "defending and promoting" women's rights. Minister of Health Jean-Yves Duclos stated on May 11 that codifying abortion as a right in law was "on the table," but also indicated that this would involve risks.
Canadians should soundly say no to any new legislation touching upon abortion rights.
We are in a very different situation than the U.S. Under our constitution, provinces and territories cannot restrict abortion. That is a matter of criminal law and only the federal government can legislate with respect to criminal law. In its 1988 decision, R. v. Morgentaler, the Supreme Court of Canada struck down Criminal Code provisions that made abortion a criminal act unless the procedure was approved by a "therapeutic abortion committee" of an accredited or approved hospital. The Court held that these provisions infringed women's right to liberty and security of the person under section 7 of the Charter of Rights and Freedoms, and that the code's procedural requirements were not in accord with fundamental justice. In that case, Justice Bertha Wilson described the choice to have an abortion as an important decision intimately related to a woman's private life, which the state does not have to approve but does have to respect. The Charter's protection of women's right to abortion may also be protected by sections 15 and 28, not even tested in the 1988 Morgentaler case.
Article content
Prime Minister Brian Mulroney's government responded to Morgentaler with a new bill trying out a different set of restrictions. Bill C-43 was defeated by an unprecedented tie vote in the Senate of Canada on Jan. 31, 1991. No government has since tried to legislate on abortion.
"No" to federal legislation was the right answer then, and it is the right answer now.
Any new federal law — whether affirming, or restricting, of women's rights — would put the legality of abortion in Canada at serious risk of erosion, through the process of framing, parliamentary review, and inevitable subsequent litigation.
Parliament has never used s. 33 of the Canadian Charter of Rights and Freedoms — the notwithstanding clause – to override Charter rights. To do so now would be highly controversial in its own right. Nor would section 33 protect new abortion legislation from challenges. The Québec government used s. 33 to protect Bill 21 from Charter challenges, but that has not preserved it from litigation.
Article content
Currently there is no straightforward way to get the matter before the courts, and all the non-straightforward ways have not worked to date. A new federal statute would function like a superhighway to bring the issue of abortion back before the courts in Canada. And a new statute would also provide endless opportunities for Parliament to eat away at abortion rights through amendment.
There is no shortage of funds and combatants to challenge the legality of abortion in Canada. Abortion opponents say they oppose legislation, but they also know that it gives them a platform.
A new federal bill or statute in Canada would have the perverse result of opening the door wide to constitutional challenges and political tinkering by those who oppose abortion. This is time-consuming, costly and destabilizing, and will complicate achieving further improvements to on-the-ground access for abortion.
Canada has clear legal space for abortion and among the most liberal abortion rights in the world, because we have no federal law dealing with it. We must keep it that way.
Donna Dasko is a member of the Canadian Senate representing Ontario. Elizabeth Atcheson has worked on women's Charter rights since 1980.