Opinion: With so many overdose deaths, governments can't ignore the duty to ensure the care and safety of addicts seeking residential treatment.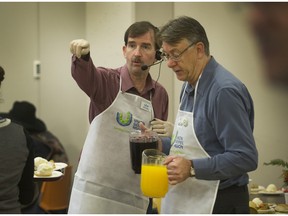 Article content
For decades, governments have struggled with the oversight of congregate housing.
Article content
We saw that at the start of the pandemic when COVID raced through understaffed, badly supervised, badly regulated seniors' homes.
But if governments didn't care that much about Grandpa and Grandma in the past, they cared even less about addicts hoping to get help in residential recovery houses.
More precisely, politicians haven't cared much about those who — unlike them — don't have employee benefits that include the cost of the best-possible treatment.
But nobody can look away any longer with nearly 10,000 dead since British Columbia declared illicit drug overdose deaths a public health emergency in 2017.
Too many parents and families now know that even if their loved one wants to get treatment and they do their due diligence, it's still hard to avoid sketchy and opportunistic operators running flophouses.
Article content
Confusingly, both seniors' homes and residential addictions treatment centres are lumped together under the B.C. Community Care and Assisted Living Act. This is something that recovery house operators are lobbying hard to have changed. They're pushing for separate legislation administered by the Ministry of Mental Health and Addictions.
"There's not one sentence in the act that indicates that (in recovery houses) you're dealing with people whose disease is cunning, baffling and powerful," said Susan Sanderson, the executive director of Realistic Success Recovery Society, which is registered to provide services to 40 men in Surrey.
"This is not like dealing with a senior. We're dealing a whole different disease that requires some real understanding of how it affects people."
Article content
The act sets up a two-track regulatory system. The Health Ministry regulates "registered" recovery houses and seniors' homes through the Assisted Living Registry. But it designates administrative power for "licensed" facilities to the health authorities.
Over the past two decades, credible operators of supportive, residential care for addictions have spent thousands of hours giving the same advice over and over to politicians who ignore it.
They've long urged clear regulations tailored to the specific needs of addicts instead of the one-size-fits-all approach that lumps them with seniors.
Frustrating to operators, the dearth of regulation and enforcement has had deadly consequences for people who need their services and who trusted that the government honours its duty of care to the vulnerable by properly overseeing them.
Article content
The Community Care and Assisted Living Act was overhauled in 2019, adding new rules and requirements. But among the unintended consequences of not having heeded operators' advice is that meeting some of the new regulations have stymied even some of the best operators.
Union Gospel Mission is one of the largest service providers on Vancouver's Downtown Eastside. And it's one of 34 listed by the government's website as having unregistered facilities.
"Suffice to say, this has been a very long and arduous process," UGM's Dan Russell wrote in an email.
"With the reality of the pandemic at UGM, and the ministry also focused on the pandemic, there have been significant delays in reviewing key documents, as well as clarifying and adopting new processes."
Article content
For the past three years, he said UGM has been "working closely" with the Health Ministry and is only now "close" to having one of its three facilities registered.
Here are some examples of 2019's problematic rules.
• Locks are required on bedroom doors, which makes sense for seniors. But behind locked doors, addicts can overdose and die in the time it takes someone to find the key or break down a door.
• Single rooms should absolutely be the standard for seniors. But addicts who relapse need a roommate who can raise an alarm or administer Naloxone.
• The Assisted Living Registry is woefully under-resourced with only nine inspectors provincewide for more than 1,100 recovery houses and hundreds of seniors' homes.
• Inspectors have limited tools. Because the act doesn't provide for fines or penalties, they're mostly limited to cajoling operators into compliance. And it's only when that fails that they can cancel an operator's registration.
Article content
Without fear of penalties, it's led to a situation that brings to mind the carnival game Whac-a-Mole.
When an Abbotsford property owner discovered that his renter, the Vancouver Recovery Society, was running an unregistered recovery house in 2019, he evicted him. But Assisted Living Registry inspectors reported operator Kyle Walker simply moved residents to another location.
Over the past four years, Walker has operated six unregistered houses under the names Vancouver Recovery Society and Paladin Recovery Society. The last known one in Surrey, according to the Assisted Living Registry, closed in March 2021. The property owner had evicted Paladin and its clients.
In early 2022, Inspire Change Wellness voluntarily shut its three houses and relocated its clients. The city of Surrey ordered the closure in October because Inspire Change did not have the required approvals from the ALR to operate.
Article content
Chris Burwash was the operator and he's now listed as executive director on Into Action Recovery Society's website. Into Action has two Assisted Living Registry-registered houses — one at 6293 Marine Drive and another at 13222 87B Avenue in Surrey.
But as the result of an inspection in January, the Surrey house was cited for three infractions — exceeding the occupancy permitted by the municipality, inability to provide progress notes or discharge summaries for residents who had recently left, and being unable to provide evidence that staff had the training they require.
There are other problematic operators on the list of 34 unregistered recovery houses — too many others.
But with the ever-increasing need for addictions services and unmet needs for supportive housing, there could be dozens more that have yet to come to the Assisted Living Registry's attention.