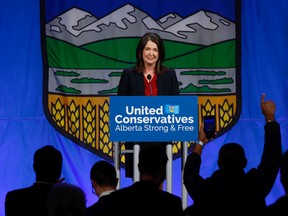 Article content
UCP leader and premier-designate Danielle Smith intends to run in a byelection in Brooks-Medicine Hat but will not hold such a race in Calgary-Elbow.
Article content
Speaking in Medicine Hat Saturday, Smith thanked outgoing MLA Michaela Frey for her role in representing the riding while stating that after meeting with the local constituency association the new leader of the UCP will look to run in the rural riding. Frey had previously announced she wouldn't be running again and announced Friday she has stepped down from her role in the legislature.
Article content
"During the pandemic, Albertans in rural and small urban communities felt left out of the conversation. By running in Brooks-Medicine Hat, I will assure them that forgotten corners of the province will not be forgotten and they will continue to have a strong voice at the table," said Smith.
Smith said that while she intends to have a byelection in the rural southeastern riding, there will not be one in the urban riding of Calgary-Elbow, a seat left vacant when former minister Doug Schweitzer announced at the start of September he was leaving public office.
Article content
The Premier-designate said there is a convention new leaders without a seat at the legislature should run in a byelection but that there is also a convention that a byelection in other ridings do not need to be held when there is a general election looming. The next scheduled date for an election is May 29, 2023.
"There is also a convention as well, that if you're within a year of having a general election, that you don't need to call by-elections," said Smith. "We may as well just stick with a convention of having the adjacent MLA take care of the issues in the ridings
The speaker's office has previously told Postmedia there are legal arguments on both sides of whether to hold a byelection this close to an election and that the decision would ultimately come down to the premier's office.
Article content
Dr. Jared Wesley, a professor with the University of Alberta's political science department, said it is constitutionally fine not to call a byelection. However, he said there's an expectation that if the new leader is going to run a byelection to give the people of Brooks-Medicine Hat an elected voice, she would do the same for the people of Calgary-Elbow.
Wesley said that if the premier-designate wants to introduce major pieces of legislation, such as her Alberta Sovereignty Act, there is an expectation that all Albertans have a voice in the legislature to have input on that policy.
"When 48,000 Calgarians don't have a voice in what's expected to be a very monumental legislative session, we're right to ask questions," said Wesley. "If she didn't think that Calgary-Elbow voters would make a difference in the implementation of her agenda, then she'd run the by-election. But obviously, she feels like their voice is somehow threatening her ability to govern."
Article content
Wesley said if the UCP — under Jason Kenney at the time — felt they could spend money on holding a referendum on getting a better deal within Canada's confederation, they should feel as though they can spend the money to run a byelection in Calgary-Elbow.
Samir Kayande, the NDP candidate for Calgary-Elbow, said he does not understand why Smith would disregard Calgarians by not holding a vote. He said he has been doorknocking for months and has heard people in the riding have many concerns they want raised with the government.
"She doesn't want to hear about the issues that Calgarians are actually facing and I think it's really unfortunate and it's really sad," said Kayande.
Kayande said he plans to continue to speak with residents and make sure he hears their concerns ahead of next year's election.