Analysis: Proposed pilot program aims to provide tax relief for independent businesses, and explicitly excludes several kinds of commercial properties, including big box stores, national and international chains, and banks.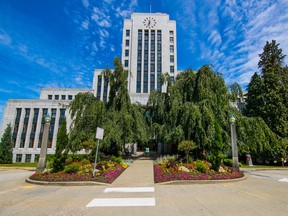 Article content
Vancouver city staff have crafted a plan they hope will provide relief for local small businesses struggling with skyrocketing tax bills for the air over their heads.
Article content
The proposal is already being applauded by those who have lobbied for years for this kind of tax relief for independent businesses. Others fear it could be too little, too late — especially on the heels of the 10.7 per cent property tax increase city council just approved.
Article content
It's been a complicated and long-running issue in Vancouver (and, more recently, some other B.C. cities). Because properties are taxed not on their existing use, but based on "highest and best use," some independent shops, cafes, venues and restaurants in older one- and two-storey buildings sit on properties that are assessed — and therefore taxed — as though they were a taller building with several storeys of condos above ground-floor commercial space.
Article content
Because commercial tenants are typically responsible not only for rent, but also for maintenance bills and property taxes, that expensive unbuilt development potential in the air has been blamed for killing some beloved local businesses. When Vancouver's first neighbourhood pub, the Dover Arms, shuttered in 2017, management blamed property taxes, and when West End retailer Chocolate Mousse closed in 2019, its owner said their tax bill had increased by about 400 per cent over three years.
Making matters worse for those commercial tenants, even when the additional development potential is zoned for residential, it's all taxed at the commercial rate, which is about 3½ times the residential rate.
Now, the City of Vancouver is proposing to apply a lower tax rate to the development potential in the airspace above commercial properties. Undeveloped airspace would be taxed at 50 per cent off the usual rate for commercial and light industry.
Article content
This could make a significant difference for small independent businesses, who could save thousands-of-dollars a year off their property tax bill, said Grace Cheng, Vancouver's director of long-term financial strategy.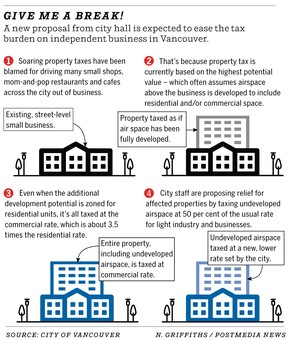 Next week, staff will seek council's approval on the proposed tax relief pilot program, which could apply to an estimated 1,360 properties. To ensure the savings don't just benefit the landlords, the city would require property owners to certify that they have advised their tenants about the tax relief.
Of course, if some people's tax bills are reduced, it means other taxpayers need to pay more to make up for it. The city estimates this tax relief program would mean roughly a one per cent increase for other commercial taxpayers.
Article content
The proposed pilot program explicitly excludes certain kinds of commercial properties: big box stores, national and international chains, banks and financial institutions, offices, hotels, parking lots, gas stations and others.
Those exclusions are because the relief is intended for independent businesses, Cheng said, and because the more properties that receive relief, it means more of an increase for everyone else. So staff are trying to ensure the relief benefits those independent businesses who need it, while not putting too much upward pressure on others' taxes.
An appendix at the back of the 47-page staff report going to council next week lists properties that could be eligible for this relief, so business operators can check if their address shows up in there, and if so, raise the issue with their landlords.
Article content
Although this has been a long-running problem in Vancouver, this is the first year that the city has been able to pursue this course of action, after the B.C. government introduced legislation late last year enabling municipalities to offer tax relief on development potential.
Cheng said the B.C. government deserves credit for listening to municipalities who had been calling for this kind of power, and for recognizing that an earlier "interim" solution introduced by the province in 2020 wasn't working.
It appears that Vancouver is the first B.C. municipality to pursue this kind of tax relief through the new powers granted last year by the province, but it might not be the last one, said Jairo Yunis, Canadian Federation of Independent Business senior policy analyst for B.C.
Article content
The CFIB has met with representatives of several B.C. municipalities, Yunis said, "and their answer is always the same … They really want to provide some property tax relief to commercial properties, but they don't have the resources to do it."
Yunis said he hopes Vancouver's council approves this pilot program, and then other municipalities can learn from this example and follow in the city's footsteps.
Paul Sullivan, a property tax expert and principal at global tax firm Ryan ULC, has been pushing governments for years to address this problem and help independent businesses. He said he doesn't always praise city hall, but they deserve credit for putting together this pilot program so quickly after the provincial legislation came into effect in November.
Article content
"The fact that staff are on-board to make this happen shows a dynamic that I haven't seen towards the business taxpayer in a long time. And it's a positive thing," Sullivan said. "Now it's incumbent on this new council to live up to their election promises, and support small businesses … I think they owe it to the small business taxpayer."
Jude Kusnierz, whose Beaumont Studios in Mount Pleasant saw a 300 per cent tax increase over five years, fears the pilot program could be "too little, too late."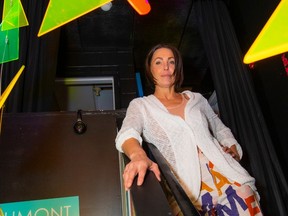 It remains to be seen how much relief her location, a long-running and well-loved arts studio and event space, might see. But, she said, even if she saved $10,000 through this program, her property tax bill alone last year was $123,000.
Article content
So while any relief would be welcome, Kusnierz said, considering the 10.7 per cent property tax increase council approved this week, it might be a wash.
"It might even be less than a wash," she said. "We're not expecting much."
10.7% property tax hike means council set to invest in Vancouver's future: mayor

B.C.'s budget praised for housing investment, criticized for lack of business help
---
Support our journalism: Our in-depth journalism is possible thanks to the support of our subscribers. For just $3.50 per week, you can get unlimited, ad-lite access to The Vancouver Sun, The Province, National Post and 13 other Canadian news sites. Support us by subscribing today: The Vancouver Sun | The Province.