Opinion: With expensive land, limited funding and little free space, ensuring adequate parks in the Broadway plan will be anything but easy. But it could also be important.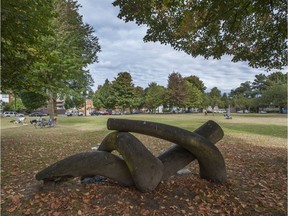 Article content
Over recent weeks while Vancouver city council has considered the Broadway plan — and during the public discussions in the years before that — much debate has focused on questions of housing and building density. But another recurring concern has been raised by many of the plan's critics and even by some of its supporters: Where are the parks?
Article content
On May 17, the evening before the plan came to council, the Vancouver park board passed an urgent motion asking council to consider including "open space and recreation targets in the Broadway plan to ensure that parks and recreation service levels keep pace with growth and support equity and livability."
The motion, moved by Green park board commissioner Camil Dumont, noted the Broadway area is already "very low" on park space today, with 0.33 hectares of park space per 1,000 residents, well below Downtown Vancouver's 0.49 hectares per 1,000 residents. (The citywide level is 1.9 hectares per 1,000 residents.)
The board also approved an amendment from NPA park board commissioner John Coupar, who is running for mayor this year and has become an increasingly vocal critic of the Broadway plan, indicating park board general manager Donnie Rosa "did not concur with the Broadway plan report to council."
Article content
Reached Wednesday, Dumont said he is "absolutely supportive" of the plan's big goals of significantly increasing housing density, and its focus on rental and non-market housing. His concern, he says, is that "we need to plan for this new increase in population to actually have the quality of life that one should be able to expect, regardless of income."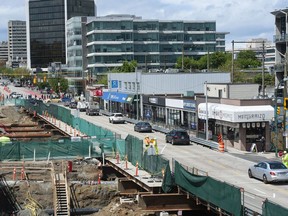 The plan considers the next 30 years for almost 500 city blocks along the Broadway subway line now under construction. But it's not easy to add park space in urban areas that are already built-out and expected to get significantly more dense; space is already limited, land is expensive and city hall has limited funding sources.
Figuring out how the city can do it, Dumont said, "is the $100 million question."
Article content
"And I think that if it costs more, it costs more. But the point is that you don't make more people live in neighbourhoods without parks and without community centres," he said. "You plan for it from Day 1."
Many Vancouverites don't have private outdoor space, and the percentage who do is likely to only decrease in future. City-dwellers might happily accept the trade-off of not having a backyard for a desirable urban location, but research shows neighbourhood green space is crucial for mental health.
Urban green spaces are also "vital" for mitigating impacts of climate change, including extreme heat events and flooding, said Alex Boston, executive director of Simon Fraser University's renewable cities program.
Article content
Boston is "overwhelmingly supportive" of the plan's overall direction, he says, but was "gobsmacked at how little green was in the Broadway plan renderings. The City of Vancouver knows better."
The plan includes high-level commitments to parks and green space, Boston says, "but it's not sufficiently specific and there's not sufficiently strong performance targets."
Acknowledging the challenges of adding park space in already dense urban environments, Boston encourages the city to get more creative and look at "underutilized" assets like streets, alleyways and parking lots. For example, he said, the off-Broadway bike route, currently shared by drivers and cyclists, "could literally be one big, long, linear green park" with no cars.
Article content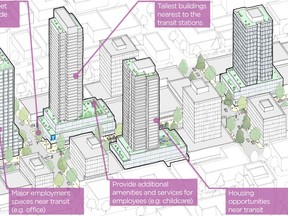 Such a move wouldn't be universally welcomed and might not be easy: the concept of taking away space from cars usually faces fierce pushback from some corners. But data, including a Research Co. poll released just this week, shows most Vancouverites like separated bike infrastructure. Past Vancouver election results suggest the same thing.
Dumont also agrees with the idea of taking space from cars to create more green spaces for playing, walking, rolling, biking and just chilling out. He loves the idea of a linear park, like Manhattan's High Line, an elevated green space created from a converted railway line.
"Let's get creative and figure it out," Dumont said. "Let's try something different that's inclusive of ecosystems and people's needs for walking their dogs and kids getting outside."
Article content
The immediate popularity of the new 0.3-hectare park at Smithe and Richards streets in Yaletown shows what can be done with a relatively small but well-designed space, Dumont said, and COVID-19 only underscored the importance of such public amenities.
The depth of the challenge and the public concern around the issue were highlighted late Tuesday in council chambers, in city staff's closing comments on the Broadway plan after four days of public hearings.
"We've heard clearly from speakers, and throughout the process, the demand for public amenities," and especially "more parks and public open spaces," said acting director of special projects Matt Shillito. Despite the challenges, Shillito said, "the plan responds with a creative strategy" for expanding, adding and renewing parks and adding privately owned public spaces.
Article content
"Should council wish to go beyond the current proposals, and establish a provision target with the plan," council could direct staff to "report back on the options and the full implications," Shillito said. "To be practical and affordable, these options would need to include types of open spaces that are not currently included in the park board's park-ratio calculation."
The meeting recessed for the night following Shillito's presentation, and council is slated to resume discussion of the Broadway plan next week, including what could be dozens of proposed amendments, one or two of which might touch on parks and public spaces.
Broadway businesses fear bankruptcy over subway construction

The future is coming to Broadway, but the fate of existing apartment renters is uncertain