Police statistics show an eight per cent increase in violent crime in central Calgary in the first three months of 2022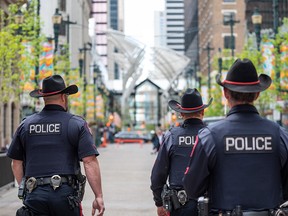 Article content
On a warm spring evening at Calgary's City Hall LRT station, a man punches a utility box, screaming loudly in agony. If the commuters on the platform heard the outburst, most don't turn around to look, instead keeping fixated on their incoming train.
Article content
Farther down the platform, another man lets out a guttural yell and hurls a string of profanities at no one in particular. Yet another staggers toward commuters and in aggressive, rapid-fire speech, launches into a conspiratorial rant. Some train riders take uneasy, tentative steps away from the situation.
Most Calgary Transit users seem inured to the disorder around them, which acts as a near-constant backdrop for commuters, and to the rare but jolting sparks of violence or anger. City transit stations have become a focal point of escalating concerns over public safety in recent months, particularly in the downtown core. Violent crime levels in Calgary sit at a five-year high and the city is on pace to have its worst year ever for weapons-related incidents.
Article content
The opioid crisis is visible, too, in the station and across the street at Olympic Plaza, where several groups of people sit on the grass, immobile and unresponsive. Needles are seen strewn nearby.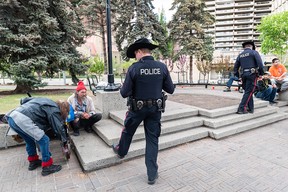 Calgary Police Service Const. Brad Milne says reports of drug poisoning come through his scanner "non-stop," and estimates he and officers on his beat walk through downtown administering an average of five doses of overdose-reversing naloxone during each 10-hour shift.
Chaz Smith and volunteers with BeTheChangeYYC spend evenings walking through downtown hot spots of disorder and homelessness several times each week, handing out food, water and basic supplies to those without a place to sleep. The demand quickly outpaces their supplies.
Article content
Many people they meet are facing crises linked with mental health and addictions. Smith and his team refer them to resources, including a subsidized housing waitlist, but many say they've been waiting on that list for months, if not years.
Even with his experience in the downtown, having experienced homelessness and sleeping rough on Calgary streets as a youth, Smith says safety is a growing concern for him and for the vulnerable Calgarians he speaks with regularly.
"I don't feel safe walking around downtown," said Smith, who founded the BeTheChangeYYC outreach program.
"But people we serve don't have the luxury of going home and having walls to feel safe."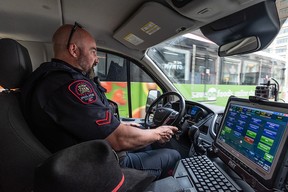 Crime and safety in Calgary's core and throughout the city have become a mounting worry for residents and leaders in the first months of 2022, coinciding with a broader societal move out of the COVID-19 pandemic.
Article content
Police statistics show an eight per cent increase in violent crime in central Calgary in the first three months of 2022 when compared to the five-year average, a spike driven mainly by common assaults.
In 2021, such violent crime hit a five-year high citywide and downtown, with the core logging a 19 per cent increase in incidents over the previous year, bringing it slightly above pre-pandemic levels.
Disorder in the city centre also climbed in the first quarter of 2022 but remains only slightly above pre-pandemic levels. Disorder jumped in central Calgary as the pandemic struck, with significant increases in call volumes related to mental health concerns and unwanted guests.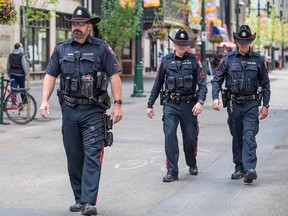 A series of recent high-profile outbursts of violence in and near downtown have also shaken residents — like a mid-afternoon shooting on a busy stretch of 17th Avenue S.W. last month, or the March homicide of Vanessa Ladouceur, who was killed in a random stabbing while walking on 10th Avenue S.E., only steps from her workplace.
Article content
Those scenes of violence are unacceptable, said police Supt. Scott Boyd, who noted city police view escalating crime and disorder as deep-rooted problems that need buy-in from governments and social agencies to solve; these are problems that can't be fixed through arrests.
"There's a level of enhanced fear for the everyday Calgarians who go, 'What about me?'" Boyd said.
"These problems are wickedly complex. When you talk about mental health and addiction and homelessness, they're not easy-button solutions. They require transformation at all levels of government and mindset shift for all partners and agencies, including police."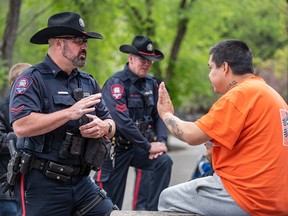 Police opened what is dubbed a safety hub on Stephen Avenue near 2nd Street S.W. last year, a downtown home base for city police and bylaw officers. It's not a police station, but it does have a button that Calgarians can press to receive police attention, and Boyd said it also fills the role of bringing more police presence to downtown streets. A second safety hub is to open in East Village in July, with the space also set to be open to some outreach groups.
Article content
There's no full-fledged police station in Calgary's core after the service closed its Victoria Park location in 2017, leaving its District 1 office in Ramsay to serve downtown. That's a concern for Ward 7 Coun. Terry Wong, who said he's been hearing from constituents who feel unsafe navigating inner-city streets.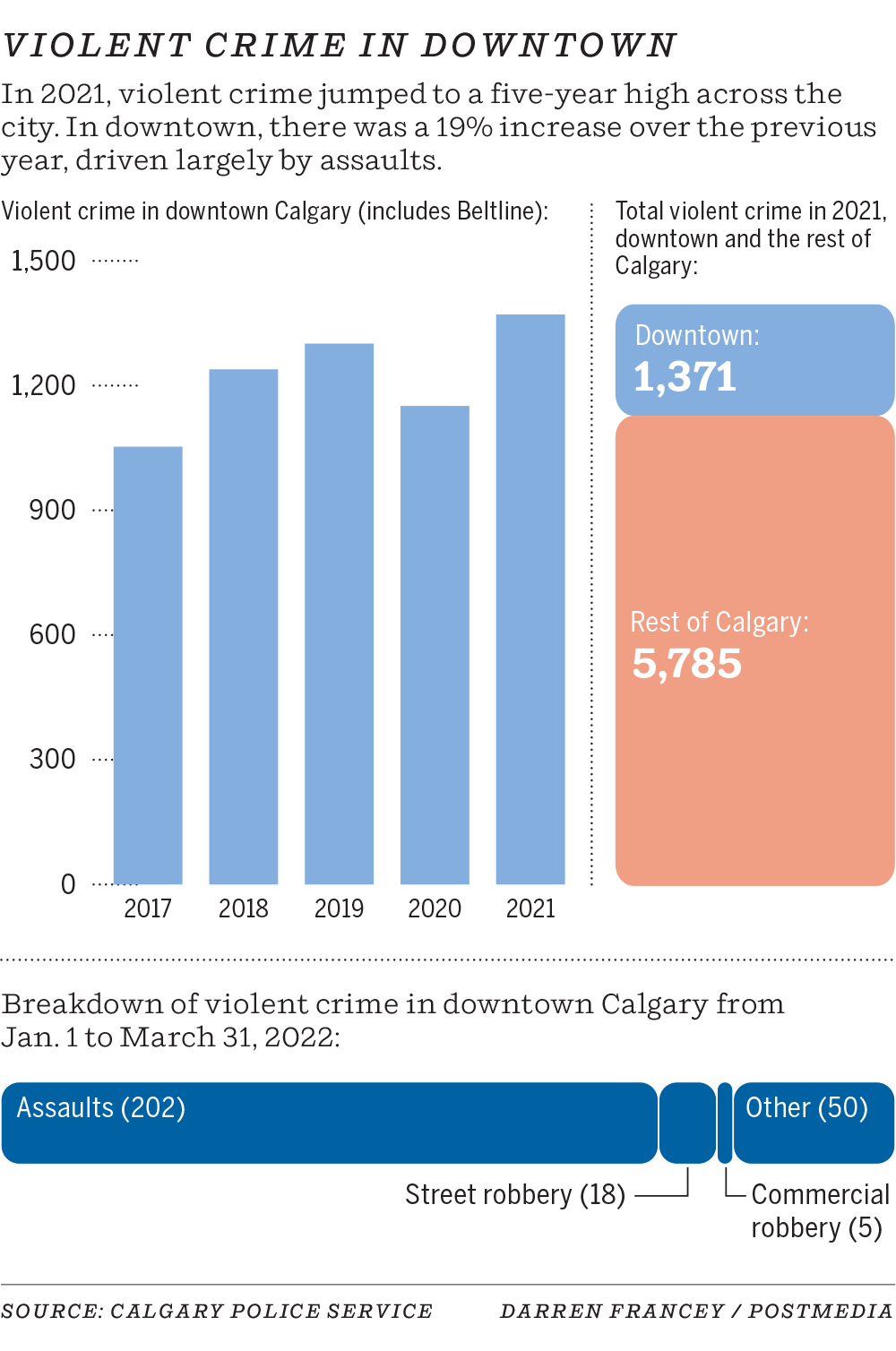 Downtown revitalization goes hand-in-hand with boosting safety, Wong said.
Bringing more traffic to streets will organically help curb problems, he added.
"We've often promoted that the more and more people we bring back to offices, into the parks across the street, the types of negative occurrences will either fade away or will relocate," Wong said.
"Will it disappear? No … But will they feel comfortable, for example, lining up in the park and crashing, or perhaps in a back alley?"
Article content
Revitalization efforts must work to avoid gentrification, argued Calgary Mayor Jyoti Gondek, who said "displacing folks to different areas" won't address the societal problems underpinning rising disorder.
"We have to take a very holistic look and make sure the spaces we build are accessible in many ways, one of the most important ways being affordability of housing," Gondek told Postmedia during a walk through the city centre.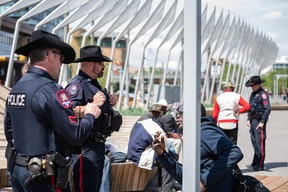 Kate Thompson said in an area like the East Village — which has undergone significant revitalization in recent years, but remains a hotbed for crime — a main goal is boosting the perception of safety by getting more bodies on the streets.
"It's about getting people out and enjoying the city," said Thompson, president and CEO of Calgary Municipal Land Corp. "You have to feel like you're safe, feel like you can access the space, no matter what your level of mobility is."
Article content
Calgary could be under pressure from the province to do more to curb safety after Alberta Justice Minister Tyler Shandro last month ordered Edmonton to draft a plan to address crime and public safety in that city's downtown.
The provincial intervention came in the wake of two separate homicides in Edmonton's Chinatown. However, Wong — a representative of Calgary's Chinatown before becoming councillor — said this city's district has largely avoided issues of violence and racism seen in other Chinatowns across Canada, adding he's been in touch with those other cultural districts to learn how to ensure that remains the case.
There's been some local support for a similar directive to Calgary, including from Coun. Dan McLean, who has charged the city needs "a little bit of a kick in the ass" to meaningfully combat crime.
Article content
Gondek, however, rejects that idea and maintains Calgary is on track with dealing with rising violence and disorder. She said that's in large part due to call diversions to social agencies like the Downtown Outreach Addictions Partnership, something she said frees up officers to focus on crime.
"We have 20-plus organizations that deal with people in positions of vulnerability; they help get people housed, they help people recover, they help people with mental health issues," Gondek said.
"We've already tackled this quite some time ago and we continue to move forward in collaboration."
Other Calgarians express concerns. Having taken Calgary Transit for about two decades, Ashley Soles has no shortage of stories, witnessing everything from drug overdoses to fights to domestic assaults to racist and sexist harassment.
Article content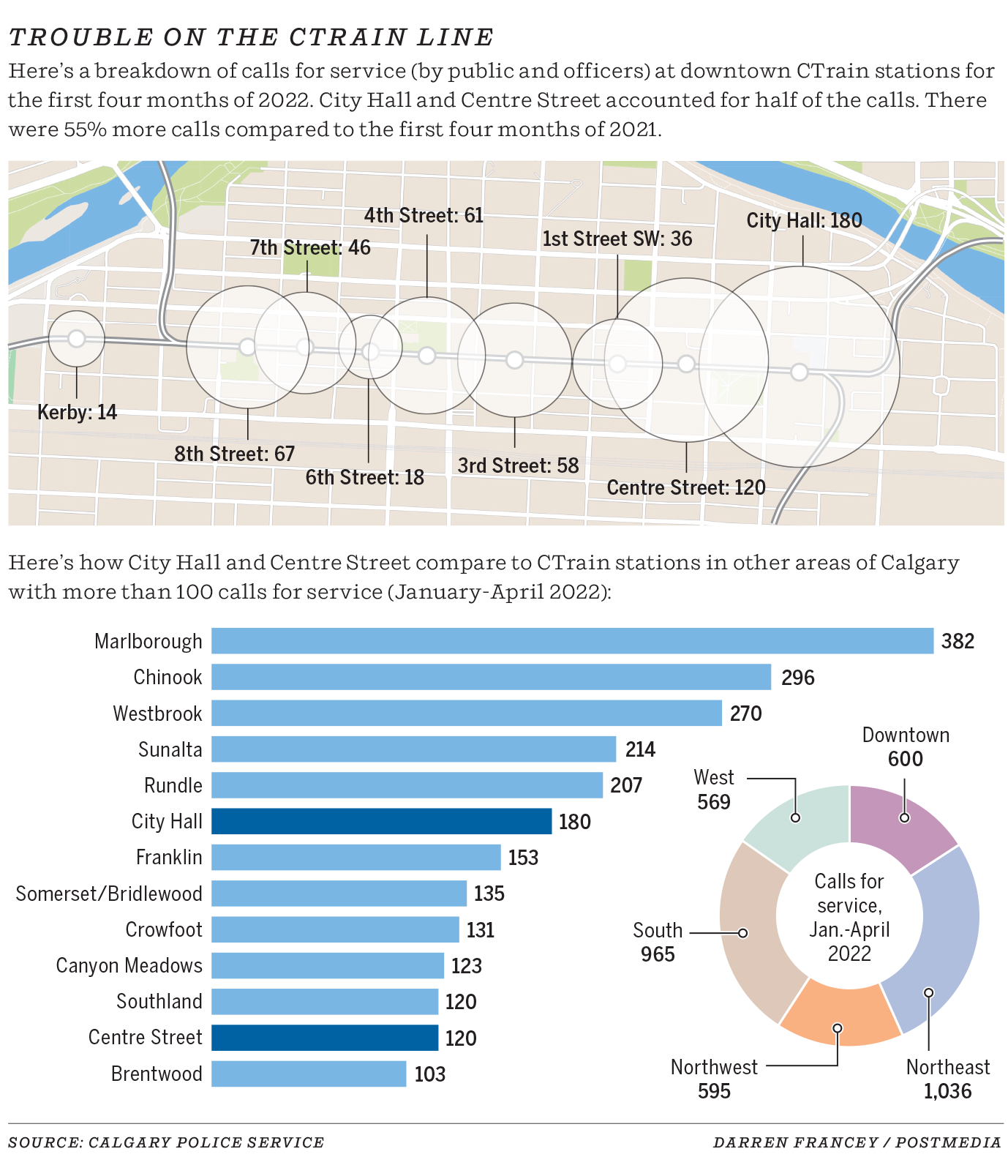 She said the situation is now at its worst point and she believes city officials aren't doing enough in response.
"Transit is just not safe anymore. I wouldn't take my younger sisters, I wouldn't take my niece or nephew on the train. I'm OK with taking transit because I know how to handle myself, but it's still a huge problem," Soles said.
"It doesn't seem like they have any logic behind what they're doing, because it's not working."
Soles said she believes Calgarians are choosing not to take transit due to disorder on the service. She said high-profile instances of violence, like last month's random stabbing of a 65-year-old visually impaired man on a train departing City Hall station, have an even greater chilling effect.
Article content
Geoff Allan, who owns rental properties in the Beltline, across from the Sheldon Chumir health centre, said he's been concerned about safety in the area since the Safeworks supervised drug consumption site opened at the medical facility in 2017.
He said disorder near the site has made tenants feel unsafe, and noted problems worsen as the weather heats up.
"I don't think things have improved in the last couple of years," Allan said. "Personally, I don't fear for my safety, but I think other demographics do. Like, I know my wife is skeptical about walking along 13th Avenue."
The United Conservative government announced last year it would close the Safeworks site, citing "disruptions" to the community. The province is in talks with two social agencies, the Drop-In Centre and Alpha House, to open smaller overdose prevention sites at those inner-city facilities.
Article content
Calgary's lone existing supervised consumption site clearly isn't enough to curb public drug use in the city's core.
Police and social agencies report people intentionally using drugs on CTrain platforms, positioning themselves in view of security cameras, hoping to be seen in case they overdose. While the public drug use can make onlookers feel unsafe, its visible nature is sometimes a choice by those using drugs to make themselves safer.
Smith, with BeTheChangeYYC, said he believes public funds must be funnelled into social and housing agencies and mental-health supports to facilitate recovery from addiction — and not toward additional policing, which he said can lead to a pattern of incarceration and continued homelessness.
Article content
"It's a vicious cycle, and it's expensive to taxpayers," said Smith, who said the cost of keeping a person in jail is magnitudes greater than providing them with subsidized, affordable housing. "And that's not to mention the cost to human life. People are dying out here."
One key concept of urban safety comes from pioneering urbanist Jane Jacobs, who argued having more eyes on the street makes neighbourhoods safer. That's accomplished by boosting foot traffic, and having more mixed-use, residential buildings; it echoes the approach outlined by Thompson, the head of CMLC.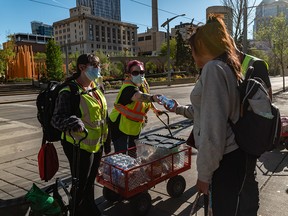 A continued lack of physical, human presence is at the core of problems in Alberta's downtowns as well as city centres across Canada, particularly as society emerges from the pandemic, argued University of Alberta School of Urban and Regional Planning director Sandeep Agrawal.
Article content
"The problem that we now have in Calgary and Edmonton downtowns is the lack of people on the street," Agrawal said.
"I would say for bringing more safety to downtown, it needs to be a two-pronged approach. One is what's needed right now, on the ground, plus a more systematic approach to ensure that the safety remains paramount on a long-term basis."
Calgary is one of the Canadian cities that has seen the greatest return of foot traffic to its city centre, Gondek said, noting this return brings exposure to uncomfortable realities which many Calgarians have been sheltered from for the past two years.
"I always hesitate to say that anything is being overblown. If people are feeling a certain way, you need to validate that they're feeling that way," Gondek said.
Article content
"When it comes to being uncomfortable, let's remember we're a very young city, and we're growing, and we're coming out of a pandemic. And there are people who are now seeing things they've never before in our city, and it's troubling to them."
Twitter: @jasonfherring
---

Downtown Turnaround: A special series
Calgary's downtown is at an important crossroads. The core needs to be revitalized as the city recovers from the pandemic, an economic downturn, labour shortages and unprecedented office vacancy rates. In this special report, Postmedia Calgary looks at the downtown dilemma, potential solutions and transformative successes.
Tuesday, June 21: Farming in the Calgary Tower — new ideas envision a different downtown for city
Wednesday, June 22: The towering problem of office vacancies
Thursday, June 23: Boosting downtown safety
Friday, June 24: Learning lessons from other cities
Saturday, June 25: Two dozen Calgarians share their thoughts on the core
To see more related content and videos, go to calgaryherald.com/downtown.
What are your ideas for revitalizing the downtown? Tell us at [email protected]