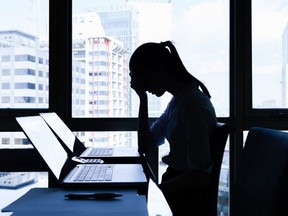 Article content
Credit counsellors say they're seeing an uptick of people with financial woes following the Bank of Canada's recent decision to hike its key lending rate 75 basis points to 3.25%
Article content
"We're noticing people are more stressed about their money due to interest rate increases," said Stacy Yanchuk Oleksy, CEO of Credit Counselling Canada.
Article content
"In terms what people can do, they can look at their own situation and see if interest rate increases impact them directly. If they do, they may want to reach out to a non-profit credit counsellor to review their situation and discuss options."
Bruce Sellery, CEO of Credit Canada Debt Solutions, said he has also noticed an increase in the number of people worried about debt.
"We are noticing a significant increase in the number of people calling us for counselling. The rate hikes, combined with rising inflation, have made it much more difficult for many families to make ends meet," Sellery said.
Article content
Some in trouble took advantage of loans recently with low rates.
"Certainly, some people took on bigger mortgages than they are now able to afford. That is clear. At the same time, the cost of living has increased in almost every other area, and wages have not kept pace," Sellery said.
"If you are feeling stressed about your debt load, or you feel like you're falling behind, call a non-profit credit counsellor. We will answer your questions, outline your options, and listen to your concerns with compassion."
Sellery added it boils down to cash flow and people need to increase their income and cut expenses to ensure they're living within their means.
"The situation is going to get even tougher for people. While the job market is great right now, there are increasing concerns about a recession ahead," Sellery said.
Article content
Recommended video
"The higher rates will stick around, too, and those who are able to squeak by now, may not be able to do that in a year or two."
The Bank of Canada says global inflation is high and measures of core inflation are moving up in most countries.
"The Canadian economy continues to operate in excess demand and labour markets remain tight. Canada's GDP grew by 3.3% in the second quarter. While this was somewhat weaker than the Bank had projected, indicators of domestic demand were very strong – consumption grew by about 9.5% and business investment was up by close to 12%," the Bank of Canada said in a release.
"With higher mortgage rates, the housing market is pulling back as anticipated, following unsustainable growth during the pandemic. The Bank continues to expect the economy to moderate in the second half of this year, as global demand weakens and tighter monetary policy here in Canada begins to bring demand more in line with supply."