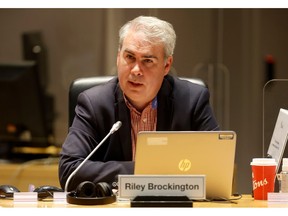 Article content
Council voiced its desire to see more done about two very different kinds of predatory behaviour at their last meeting before voters head to the polls on Oct. 24.
Article content
City staff will look into the possibility of implementing a "proactive coyote management strategy" and report back to a council committee next year, after recent coyote behaviour in River Ward, including the killing of household pets, left citizens demanding the city do more to deal with the wild animals. 
Article content
Later in the meeting, Orléans Liberal MPP Stephen Blais secured support from many of his former colleagues for a bill the former Cumberland ward councillor has brought forward in the Ontario legislature, which seeks to create a process by which municipal councillors can be removed from their seats if they're found to have violated workplace violence or harassment policies.  
Council backed a motion to have the mayor write to Ontario's premier requesting his government fast-track approval of Blais's bill, called the Stopping Harassment and Abuse by Local Leaders Act, and send a letter of support to local MPPs, the Minister of Municipal Affairs and Housing and the Association of Municipalities of Ontario.
Article content
Catherine Kitts, the current Cumberland ward councillor and mover of the motion, supported by councillors Theresa Kavanagh and Laura Dudas, said Blais's bill "hits very close to home for this council."
Earlier this term, its members voted to suspend College ward Coun. Rick Chiarelli's salary for 450 days over lewd and inappropriate behaviour reported by five women who worked in Chiarelli's office or were interviewed by him for jobs, which Chiarelli has denied. It was the harshest penalty available and the longtime councillor is serving out his term, while deciding not to run for re-election.
"I think the least we can do for the brave women that came forward in our city is to support MPP Blais's efforts wholeheartedly," said Kitts. "I hope that the province will recognize that this is not a partisan issue. This is necessary legislation to ensure that future municipalities are equipped to deal with these egregious acts of misconduct and hopefully a similar situation won't happen again in this province."
Article content
Blais noted Tuesday that Ottawa's not alone in facing councillor misconduct, with similar situations having occurred elsewhere in the province, but he's glad the city has join the list of those endorsing his bill, which range from Orillia to Wasaga Beach.
He re-introduced the bill in August after the legislature dissolved for the spring election without its passage, and Blais has secured a date in the spring for its debate via the ballot process the determines the order of private members' business.
But if the government wants to bring forward their own bill before that, he said, "I will happily support it. I will give them all sorts of credit for bringing forward and doing it. This is not a partisan issue."
All council members at the table also backed a motion from Coun. Eli El-Chantiry to have the integrity commissioner, in her current review of the council code of conduct, consider addressing personal relationships between councillors and staff, including whether their disclosure to the commissioner should be required.
Article content
"A little more aggressive"
In bringing forward his motion about a potential coyote management strategy, which staff were in agreement with, River ward Coun. Riley Brockington said the city has brought a wildlife specialist into his ward to try to understand what's happening with the concerning human-coyote interactions, but in the city, "we have struggled to formulate a plan when these interactions happen, because there's no there's no battle plan, there is no strategy."
Barrhaven ward's Jan Harder questioned why the strategy is being proposed now, when other suburban parts of the city have had problems with coyotes for well over a decade.
At no time, she said, "were we ever told that there was a way that the city could have a significant or make a significant difference in the sightings and the approaches of coyotes and other wild animals that we've had."
Article content
Ayotte said cities throughout the province, such as Oakville, have become more involved in this area, and locally the coyotes seem to be "a little more aggressive" of late.
As far as the frequency of coyote sightings, bylaw chief Roger Chapman said there hasn't been a huge increase in the number reported via 311 — which they're encouraging the public to do — despite the "brazen" coyote situation in Brockington's ward, which they're working on a plan to deal with.
What the proposed proactive coyote management strategy could support, Chapman explained, is a quicker response, particularly when public safety is a concern.
"There's never been really a strategy in place previously, and nobody has really taken responsibility on how do we respond to that and who is responsible for it?"