John Paddock is back behind the Regina Pats' bench after overcoming a case of COVID-19 that was complicated by treatments for lymphoma.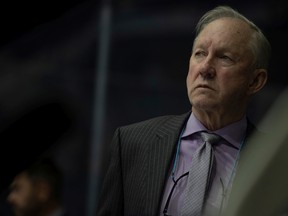 Article content
John Paddock celebrates a resounding win every time he steps behind the bench.
Article content
The Regina Pats' head coach, general manager and vice-president of hockey operations conquered COVID-19 earlier this year and, for good measure, is faring well in his battle with lymphoma.
Article content
"I feel good," Paddock said leading up to Friday's regular-season opener against the visiting Moose Jaw Warriors. "Whatever normal was before, I can't say that I'm 100-per-cent normal, but it's a new normal and it's a good normal and I feel fine.
"There's no restrictions in any way. There's nothing to make me think that I can't do the job like I always do."
Paddock was unable to coach the Pats for the final 2 1/2 months of the 2021-22 WHL season after being stricken with COVID-19.
Serious complications arose because the cancer treatments had left him immunocompromised.
Article content
"I got sick," Paddock recalled in the spring, "and then got really sick."
He recovered, however, in time to make the Pats' selections in the league's May 19 prospects draft. In June, his medical situation became public knowledge when he disclosed it during an interview with the Regina Leader-Post.
At the time, Paddock expressed optimism that he would be able to return to coaching in the fall of 2022. And sure enough …
"I checked with some of (the doctors) back in June," he said, "and I had my blood taken in the middle of August and everything's in the normal range except for one (reading) that is just slightly below.
"I got my fourth (COVID) shot sometime in August. I might catch COVID again, but I should be able to fight it like anybody else fights it."
Article content
The coaching bug, it turns out, is difficult to fight. That explains why Paddock, who turned 68 in June, is still willing to ride the buses.
"The way I've been treated by the game, I've never thought of it as work," he said. "It is work and it is busy. As time goes on, there's more social media and there's more electronics, so all it does is create more work for you. But, overall, I've never thought of it as work.
"Working with players, working with people, working with other coaches, through any of the times — good or bad — I've never felt that it was a job that I didn't want to do anymore."
At one point, though, Paddock did leave the Pats' bench. He stepped down as the head coach shortly after the 2018 Memorial Cup, in which Regina — the host team — advanced to the final before losing 3-0 to the QMJHL's Acadie-Bathurst Titan.
Article content
"I never thought about coaching again at that point, for sure," said Paddock, who handed the reins to veteran assistant Dave Struch and concentrated on the GM's duties until Nov. 18 of last year.
After the Pats' record descended to 6-10-0-0, Struch was dismissed and Paddock returned to coaching the Shaun Semple-owned team.
"Dave's a good coach — always has been, always will be," Paddock said of Struch, who was recently appointed an associate coach by the WHL's Everett Silvertips.
"As we know in sports, sometimes you just feel that there's a need to change something. It was just time. With me still being here, it was the logical step. Talking to Shaun, that was the step he wanted, so it was easy to slide along. There was no looking for anybody or anything like that."
Article content
Even if there had been a search, where was Paddock going to find someone whose credentials approached, let alone equalled, his own?
A two-time WHL coach of the year, Paddock guided the 2016-17 Pats to the Eastern Conference's regular-season and playoff titles. That season, Regina also established a franchise record for victories (52).
Long before that, Paddock had a glittering resume.
This is someone, remember, who has been an NHL head coach (with the Winnipeg Jets and Ottawa Senators), assistant coach (Ottawa, Philadelphia Flyers) and general manager (Winnipeg/Arizona Coyotes).
Additionally, Paddock registered a 590-438-98 record as an AHL head coach, guiding his teams to three Calder Cup titles. He was enshrined in the AHL Hall of Fame in 2010.
Article content
Given all those accomplishments, Paddock could easily rest on his laurels — or rest, period. But that goes against his nature, so he is back on the bench and on the buses. The reasoning is pretty simple.
"I like it," he concluded, smiling. "Thank God I have an opportunity to do it again."
The sports world is ever-changing, as are the times. Supplement your steady diet of sports coverage by subscribing to the Regina Leader-Post's 306 Sports Fix newsletter. Each week, sports editor Rob Vanstone will provide additional commentary on the Roughriders, Pats and other teams/sports of interest, along with a peek behind the curtain. Click here to subscribe.
Rob Vanstone: Pats' John Paddock has new perspective after COVID battle

Rob Vanstone: Bedard, Paddock will power Pats' resurgence