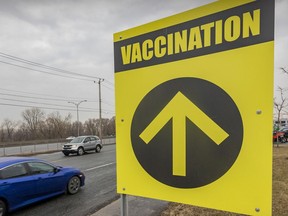 Article content
Ottawa
(Reported Tuesday, last update Friday)
Article content
3: New deaths
891: Total deaths
28: Ottawa residents in hospital due to an active infection
2: In ICU because of active infection
128: Confirmed COVID-19 patients in Ottawa hospitals as of Sunday (includes non-Ottawa residents), 54 in hospital because COVID-19 (3 in ICU) and 74 for other reasons (4 in ICU)
239: New COVID-19 cases (case numbers are considered underestimates with testing limited to certain groups)
82,309:Total cases
46: Ongoing outbreaks in institutional settings
15.4: Per cent test positivity in the community (seven-day average as of Sunday)
Source: Ottawa Public Health
The current public health situation
As of this week, Ontarians over 18 are now eligible to start getting a dose of the bivalent booster that targets the Omicron variant of COVID-19.
Article content
Another option for children aged six months to five years old also became available Monday as the Pfizer vaccine is rolled out. A Moderna shot was already approved for that age group in the province.
The vaccine news arrives as the province braces for a possible surge of COVID-19 as schools have resumed and people move indoors this fall.
In Ottawa, levels of the virus are high and increasing, Ottawa Public Health said in its latest update on Sept. 22.
Ottawa appears to be entering another wave of COVID-19 just weeks after the last one ended. That assessment is based on data that tracks health worker absences and the virus level in wastewater, Dr. Doug Manuel, a senior scientist at The Ottawa Hospital Research Institute, recently told this newspaper.
Article content
"I would say there is a strong indication that we are in the fall 2022 wave," Manuel said.
On Thursday, OPH said that everyone can "make a difference" by wearing a mask in indoor or crowded public settings, staying home when sick and staying up to date on vaccinations.
How to get vaccinated
Book vaccination appointments through Ontario's COVID-19 vaccination portal or by calling the Provincial Vaccine Contact Centre at 1-833-943-3900 or through participating pharmacies.
OPH encouraged people to make appointments because drop-in availability will be limited at community clinics.
Article content
How to get tested and treated for COVID-19
Antiviral treatments are now available for people with symptoms — even if they're mild — who are at higher risk of severe COVID-19, but they must be taken within the first five days of symptoms starting.
People can use the Ontario COVID-19 antiviral treatment screener to see if they're at higher risk of severe illness and might benefit from the medication.
With lab testing in the province prioritized for people at increased risk and in high-risk settings. Ottawans can find out more about eligibility, how to book tests and seek treatment on the Ottawa Public Health website. The health unit also has self-isolation instructions.
"If you are feeling sick, stay home," OPH said Thursday. "Do not stop isolating until you have no fever and your symptoms have been improving for at least 24 hours. When you're done isolating, continue to wear a mask in public for 10 days after your symptoms started."
Where to get rapid tests
Ontario is distributing free rapid antigen tests through participating pharmacy and grocery store locations.
This article is available for free — outside of our paywall — because we believe this is a matter of crucial public interest. If you'd like to support us as we continue to provide journalism that matters for all Ottawans, please subscribe: 
with files from Jacquie Miller