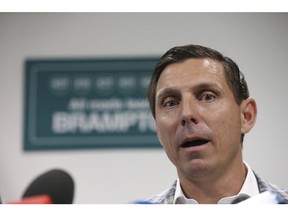 Article content
A court has ruled that six Brampton councillors were acting "without lawful jurisdiction" when they voted to preemptively fill a seat on council that was not yet vacant.
Article content
Mayor Patrick Brown said Tuesday that the Ontario Superior Court decision leaves him and other councillors who opposed the controversial motion feeling "vindicated.
"Whether it was based on incompetence or whether it was deliberate, either way it's a very disappointing situation," he said. "I think this was a brazen attempt to take power."
Six councillors voted on May 31 to appoint Elaine Moore to fill the seat of Councillor Charmaine Williams, who at the time was the official Conservative candidate for Brampton Centre in the June 2 provincial election. At the same time, she represented two Brampton wards on council.
After Williams won her riding and resigned her municipal job, Moore agreed to take her seat on council until the Oct. 24 municipal election.
Article content
Justice Michael Doi said in his ruling that the resolution and bylaw were passed without lawful jurisdiction, and the six councillors were ordered to jointly pay costs of $20,000.
Brown said the councillors ignored warnings from the city clerk and solicitor that the decision went against the Municipal Act and left Brampton council vulnerable to legal actions.
"The response was to fire the city solicitor," Brown said. "This on top of firing the integrity commissioner."
Five of the six councillors — Pat Fortini, Martin Medeiros, Jeff Bowman, Gurpreet Singh Dhillon and Doug Whillans — issued a media statement shortly after Brown was removed from the federal Conservative leadership campaign, expressing concern over his absence from Brampton and raising unconfirmed allegations around the awarding of a contract.
Article content
Williams, now a member of Ford's cabinet, was the sixth councillor to vote in support of Moore's appointment.
A spokesperson for Ontario Municipal Affairs Minister Steve Clark said the government expects Brampton council to work together to fill this vacancy, fulfill its duty to constituents and ensure the business of the municipality continues.
Fortini, Medeiros, Bowman and Dhillon provided another news release Tuesday in response to a request for comment on the court decision, accusing Brown of attempting to "run out the clock" on a series of investigations ordered by council.
"He and his four council allies do not want Brampton taxpayers to know what's been happening inside City Hall," the statement says, arguing the public needs this information ahead of the municipal election.
Brown said he has not yet decided if he will run again for the job of Brampton mayor.