Calgary-born musician Lindsay Ell, who has family roots in Regina, is back at Country Thunder in Craven this Friday.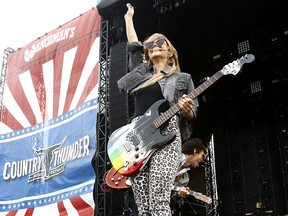 Reviews and recommendations are unbiased and products are independently selected. Postmedia may earn an affiliate commission from purchases made through links on this page.
Article content
Lindsay Ell's return to Country Thunder is almost like going home — again.
Article content
The Canadian sensation is set to make her third appearance at the Craven music festival on Friday night — just 24 hours after she's scheduled to perform at the Calgary Stampede.
Ell grew up in Calgary but she also has deep roots in the Regina area, so it'll be like a family reunion on consecutive nights.
"That is so true," Ell said from her home in Nashville. "It is truly like having back-to-back hometown shows and I'm so excited. It has been a long-time coming … (due to COVID). We cannot wait."
Despite a hectic schedule, Ell is "counting down the minutes" in anticipation of her return to Regina. Her parents were born and raised in the Queen City but moved to Calgary before she was born. That meant frequent trips to visit family in the summer and for holidays like Christmas or Easter.
"We would go to Regina like two or three times a year," she recalled. "We did that drive so many times. I truly do feel like Regina is a second home. I still have tons and aunts and uncles around Regina so I can't wait to hopefully catch up and see them and celebrate with them at Craven."
Ell remembers little things about visiting Regina, such as reading the Leader-Post with her uncles and walking to a Robin's Donuts near the home of her grandparents. They also had a cottage in the Qu'Appelle Valley that provided lots of entertainment as a youngster.
"I remember taking the boat out and being out on the lake and living the cottage life every summer," she said. "I have such fond memories when it comes to Saskatchewan."
Article content
Ell isn't just looking forward to this weekend's reunion, she's also thrilled to be performing in front of her Canadian fans again. The multi-talented musician, who plays a mean guitar to complement her powerful vocals, is slated to hit the stage at 8:30 p.m. on Friday, serving as a co-headliner with Lee Brice (10:30 p.m.).
"Everybody is so excited just to see live music and be a part of live music," said Ell. "It's not like we took our jobs for granted but for sure with the pandemic over the past couple years … we have a deeper level of gratitude. We had to miss (Craven) for two years due to the pandemic. It's going to feel so good to get out there. The lineup is so incredible. We're really excited to warm up that crowd for Lee Brice. Lee has been a friend of mine for a long, long time and I'm so excited that we get to be the headliners on Friday."
Ell is enjoying a busy summer on the festival circuit in Canada and the U.S. before heading overseas for an extended tour through Germany, the United Kingdom, England and Australia.
Ell is also working on fresh music in preparation for a new album later this year. Her latest record, Heart Theory, was released amid the pandemic in 2020 so Ell is excited to "bring that music to life" for the first time in Saskatchewan, along with a new single she released this spring: Right On Time.
"I'm so excited to be able to play that song this week," she said. "It's an important one to me. I wrote it shortly after I turned 30 because I felt like all of my friends were getting married and having babies and doing all of these life things. They were checking all these boxes and I was like: 'Am I falling behind in life? Did I miss the memo of how life is supposed to unfold?'"
Article content
Ell said it's all-too common for women to fall into that trap, noting that they often feel pressure to fit a specific mould or meet certain outside expectations. Ell wrote the song to "remind people that you are living your life exactly how you're supposed to" and that it's OK to do it "on your own timeline, not somebody else's."
In addition to being one of the up-and-coming stars in country music, Ell has launched the Make You Movement fund in support of multiple causes, including disenfranchised youth and survivors of sexual trauma and domestic abuse (more info at lindsayell.com).
Ell also stepped into a new role last year as host of Canada's Got Talent. Her first season wrapped up in the spring and the show has been renewed for another season, which is to begin shooting this fall.
"I've wanted to get involved in TV for a long time, it was just waiting for the right opportunity," she said. "I'm so proud to wave my Canadian flag and host Canada's Got Talent and to be able to work with (celebrity judges) Howie Mandel and Lilly Singh and Trish Stratus and Kardinal Offishall. (Creator) Simon Cowell flew in for our finale a few months ago. It has been so much fun getting to work with all of them. I'm cannot wait for Season 2."
Ell is also set to be the opening act for one of her idols, Shania Twain, at the Boots and Hearts festival next month in Ontario.
Twain is just one of the big names with whom Ell has performed in recent years, including the likes of Keith Urban, Brad Paisley, Luke Bryan, Ronnie Dunn, Blake Shelton and Sugarland. Discovered at age 15 by legendary Canadian guitarist Randy Bachman, Ell's blues influences have also been highlighted while appearing with legends such as Melissa Etheridge, Billy Gibbons (ZZ Top), and Robert Randolph.
"It's crazy," Ell said. "It's hard to sort of pick your head up and really take in what is happening (in the midst of it all). But, yeah, I definitely have gotten to do that in several moments over the past couple of years and for sure this year getting to share the stage with Shania is not something I take lightly at all. I'm just so grateful. It's like anything, when you want to do something bad enough and believe it in your heart, you can really do it if you put your mind to it."